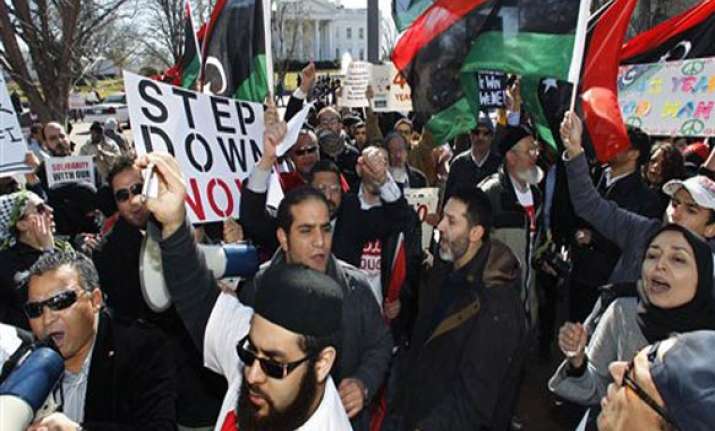 Cairo, Feb 20: At least 104 people have been killed in a crackdown by Libyan security forces on anti-regime protests raging in the east of the country, Human Rights Watch said on Sunday citing medics and witnesses. "Our researcher in Libya has confirmed at least 104 deaths," HRW's Tom Porteous told AFP by telephone. "It's an incomplete picture because communications with Libya is extremely difficult."
A staff member at Al-Jalal hospital in the city of Benghazi told HRW that the facility had received 20 dead bodies late on Saturday, with another 25 protesters in
critical condition.
"The majority of those injured showed gunshot wounds to the head, neck and shoulders," said Porteous, the group's London director. He said the Libyan government had shut down all Internet communications since late Saturday and interference on phone services has made it "extremely difficult to get information on what is going on there."
"We are very concerned under the communication blackout that has fallen on Libya since yesterday that a human rights catastrophe is unfolding."
Libyan authorities have arrested dozens of members of a "network" of Arab nationals allegedly seeking to destabilise the country, the official Jana news agency reported yesterday. Those detained in several Libyan cities were members of a "foreign network (and were) trained to damage Libya's stability, the safety of its citizens and national unity." Sources close to the investigation, quoted by the agency, said the group included Tunisian, Egyptian, Sudanese, Palestinian, Syrian and Turkish citizens.
Those arrested were "charged with inciting acts of looting and sabotage, such as burning hospitals, banks, courts, prisons, police stations and offices of the military police, as well as public buildings and private properties, according to plans drawn up earlier," Jana said.
Noting that "certain Libyan cities have been the scene of acts of sabotage and destruction since Tuesday," Jana said the suspects sought to "take arms from police stations and the military police and use them."
"Sources close to the investigation have not ruled out Israel being behind the network," the news agency added, without providing details. On the fifth day of an unprecedented challenge to his four-decade regime, Libyan leader Moamer Kadhafi has still made no public comment, although he reportedly appeared at a
mass rally of supporters in the capital on Thursday. (AFP)