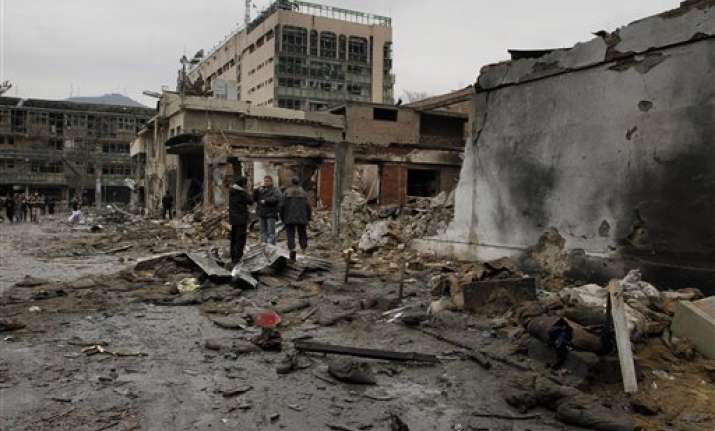 Four Lashkar-e-Taiba gunmen, who stormed into the Kabul guest houses packed with Indian officials, came clad in burqa to hide their strapped explosives and appeared to have a detailed knowledge including names of their intended Indian victims.  While one attacker stayed to detonate van packed with explosives on the main road, the other three, including one who spoke in Urdu, spread out and entered the two hotels shouting the names of Indian officials. 
Quoting Afghan intelligence officials, The Washington Post said the Pakistani militant group LeT orchestrated the deadly attack that targeted the two hotels on February 26.  The paper said the assessment could signal a departure for the group which has long focused on attacking Indians inside India. The group is blamed for the 26/11 Mumbai terror attacks which killed 166 people in November 2008.  "We are very close to the exact proof and evidence that the attack on Indian guest house... is not the work of Afghan Taliban but was carried out by Lashkar-e-Taiba network who are dependent on the Pakistan military," Sayed Ansari, Afghan intelligence spokesman, was quoted as saying by the Post.  Ansari said Afghan officials had determined that one of the bombers involved in the Friday attack yelled, "Where is the Indian Director", as he stormed into one of the hotels.  The Post said others had also sought out the Indians.
This kind of information, where the Indians are, is not the ability of the Afghan Taliban to know," Ansari said.  The victims in the Kabul massacre included six Indians, one Italian, a French filmmaker, three Afghan police and four civilians and one body which was too dismembered to identify.  However, Washington Post said American intelligence officials in Kabul believe that the attack was carried out by the Haqqani network, a Pakistan-based Afghan militant group. But, the paper said that Indian officials suspect that the two groups worked together to stage the raid. 
The Post said that the involvement of LeT would have significant implications as it would undermine the fragile peace efforts between longtime foes India and Pakistan, whose Foreign Secretaries met last week after a 14-month freeze.  India and Afghanistan had previously implicated Pakistan and its run Haqqani network for the bloody 2008 bombings of Indian Embassy in Kabul that claimed 58 lives. 
The emerging collaboration between LeT and Afghan militant groups was corroborated by retired Pakistani Brigadier Mohammad Saad who told Post, "They (LeT are aligning with the Taliban."  The Pakistani army officer said the members of LeT were training with Haqqani network in North Waziristan and that language problems force these recruits to operate alongside Afghan militants inside Afghanistan. PTI