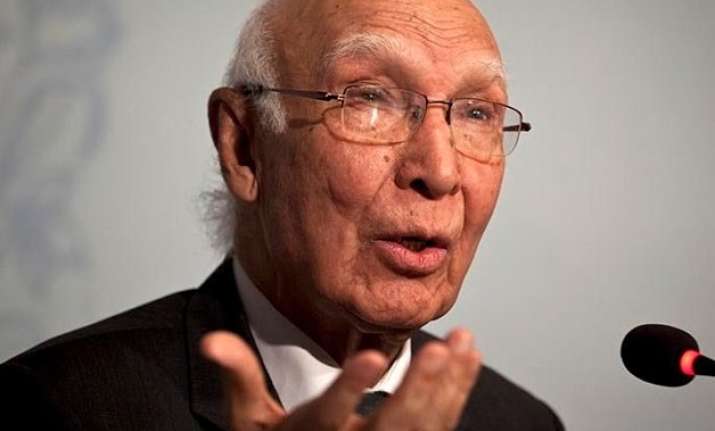 New Delhi: Pakistan is once again looking to raise the Kashmir issue with India during the forthcoming Foreign Secretary-level talks for which Islamabad and New Delhi are seeking a mutually convenient date.
The talks, which had been put off in the wake of Pathankot airbase terror attack, can once again be expected to be caught in a stalemate situation as Pakistan continues to hold the issue on the top of its priority list.
According to reports, Pakistan PM Nawaz Sharif's adviser on foreign affairs Sartaj Aziz, while speaking in Radio Pakistan's Current Affairs programme on Saturday, said that Kashmir issue was going to top the agenda for talks, expected to begin with Foreign Secretary S Jaishankar's visit to Islamabad soon.
Aziz said during the last two years, Sharif took keen interest and sensitized the international community about the need for resolution of Kashmir issue that is still pending on UN agenda.
Pakistan has been urging the international community to fulfill its responsibility towards implementation of the UN resolutions on Kashmir, Aziz said.
On 'Kashmir Solidarity Day', which fell on Friday, Sharif himself had said: "Pakistan reminds the international community of its responsibilities in the matter and urges it to fulfil its promise made to the people of Jammu and Kashmir 68 years ago."
In his address, Sharif noted that peace in the region would remain elusive until the resolution of the Kashmir dispute in accordance with the will of the people of Jammu and Kashmir.
According to Sharif, India continues to deny the people of Jammu and Kashmir their rights which the international community had raised 68 years ago. Sharif also took a shot at India saying India refused the rights of the Kashmiris by refusing to implement the UN Security Council resolutions on Kashmir.
Sharif further said that the people of Pakistan and freedom-loving people across the world saluted the Kashmiris for their courage, bravery and persistence in facing the worst kind of human rights abuse, violence and suppression by Indian security forces.
Pakistan had in past made it clear that no progress in the bilateral talks will be made until the Kashmir issue, amongst other outstanding issues, is discussed in detail.
India, on its part, has repeatedly stressed that any dialogue on Kashmir will only revolve around the area which India believes is under the illegal occupation of Pakistan.