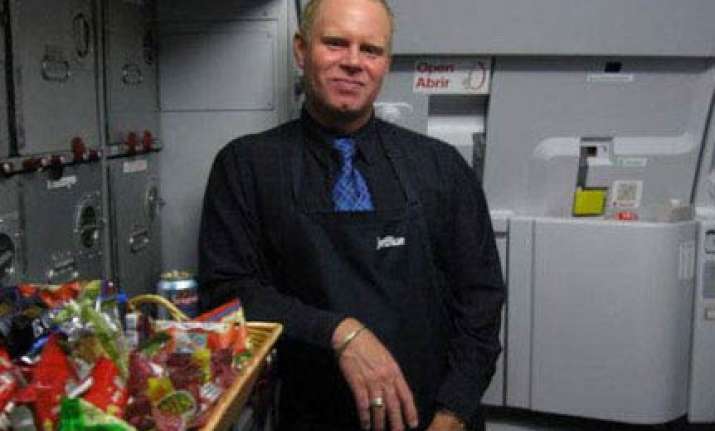 JetBlue flight attendant  Steven Slater had to post $ 2,500 bail to get of jail on Tuesday night, but his  Facebook fans are raising money to help him deal with future legal expenses.
Slater, who faces multiple charges, has received an outpouring of support online since he allegedly dropped at least one expletive on the airplane intercom and slid down the emergency chute to the  Kennedy airport tarmac on Monday.
The public's support for Slater, who many people now consider to be a working-man's hero, has manifested itself in the form of laudatory Facebook  fan posts – and at least $2,000 in donations to help alleviate Slater's legal costs.
Gary Baumgardner, 23, a working pilot , was particularly moved by Slater's story. "I was at work when it happened. We and the crew were talking about how we all feel his pain," he told the New York Daily News.
Although  Baumgardner doesn't know Slater personally, he and his colleagues relate to Slater's situation. "We know what it's like to be treated bad by passengers," he said. "Flight attendants put up with definitely the worst of it."
Baumgardner and his colleagues wanted to help Slater with his legal costs. "We looked to donate ourselves, but there was nothing set up – so we decided to see if we could get it set up ourselves." Baumgardner created the Steven Slater Legal Defense Fund Facebook page and group,  as well as a PayPal account.
His next challenge was to convince others that his fund was credible, so he got in touch with one of his contacts – someone he says works at  JetBlue and knows Steven Slater personally.
"Some of the people at JetBlue were excited that it was set up," Baumgardner said. "People in the industry will trust another crew member, and nobody is going to sympathize more with this than other crew members."
Baumgardner estimates that about half the donations he has received have come from airline industry employees and the other half have come from "people that fly a lot that sympathize or have a family member that's in the industry."
Baumgardner also said he is trying to make the donation process transparent by listing every donation he receives on the Facebook fan page wall.
So far, Baumgardner already has raised more than $2,000 in donations, $1,800 of which has been donated via PayPal– and more money may be en route to Baumgardner via mailed checks.
"I'm definitely a little bit surprised by the money that's sent in," he said. "I got people sending money in from London and South Africa, and another one from Asia. One couple sent in $200 and said, 'We're frequent fliers.' They were from Long Beach."
Baumgardner hopes Slater's story will help improve air travel etiquette. "I hope it shows [crew members] are people, too, and we deserve the common respect you'd give anyone else, especially when we're just doing our jobs."
Steven Slater quit his job Monday by allegedly cursing out his passengers, grabbing a beer from the beverage cart, and fleeing the plane by deploying the emergency slide -- he has gone from disgruntled employee to man of the hour for his devil-may-care job ditch.
Though released on bail, Slater  faces charges of criminal mischief, reckless endangerment and criminal trespass.
He also faces instant-phenom status. While the law may not be on his side, the outpouring of online support for Slater has been overwhelming.
On Facebook, the Steven Slater  fan page is gaining supporters by the minute. As of  Wednesday morning, more than 100,000 "liked" the page. More than 500 people have joined the Steven Slater Legal Defense Fund group. More than a thousand have "liked" another Facebook tribute to him whose title ought not to be used in polite company.
Artist Dan Lacey is auctioning off a portrait of a sheepish-looking Slater on  eBay and donating all the proceeds to him. As of Thursday afternoon, bids exceeded $100.  The airfare tracking site Airfarewatchdog is fueling speculation about who should play Slater in the inevitable movie.