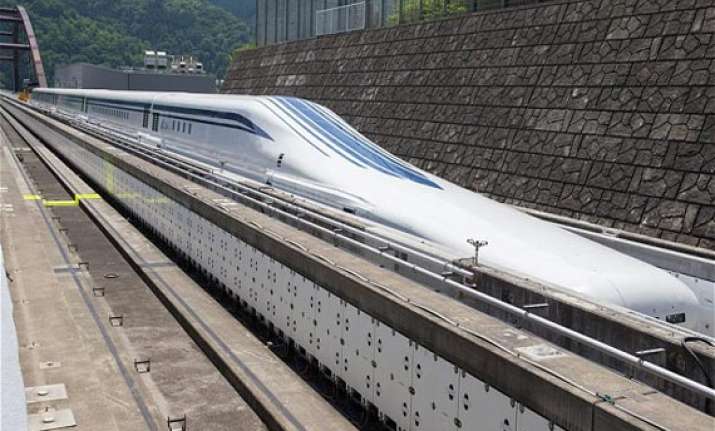 Japan tests its 500 kmph "floating" bullet train
India TV webteam
Tokyo: These are the trains of the future, designed to travel with magentic levitation technology -  trains that "float" at a breakneck speed of 500 kilometres per hour.
Japan displayed the first five coaches of the new train, having an aerodyanmic "nose" in the front, at a test track in Yamanashi Prefecture on Tuesday.  
The new generation LO series trains, employ the latest magnetic levitation technology instead of wheels, and will begin commercial runs in 2027.
The coaches are propelled by magnetic forces, and are pulled along the rail track by a special maintenance vehicle.
Wide-ranging  tests will begin in September, Japanese officials said.
The new "floating" bullet train, designed by Central Japan railway Co  (JR Tokai), will link central Tokyo with Nagoya station and will reduce the current bullet train time from 90 minutes to 40 minutes.
Japan is planning to introduce bullet train between Mumbai and Ahmedabad.
The final "floating" train will have 16 coaches which will carry up to 1,000 passengers at a time. The service will be extended to Osaka by 2045.
Japanese officials said, the ultimate plan was to create a high-speed mass transit Maglev network across the Japanese islands.
Japan launched its bullet train (shinkansen)  first in 1964 when it hosted the Olympic Games.
Japan has the world's most sophisticated railway network system, with bullet trains running at speed of up 320  kmph across more than  2,250 km tracks.
Japan is currently investing heavily in maglev (magnetic levitation) technology to remain in the forefront of rail engineering, with China giving strong competition.
China has its Shanghai maglev train capable of running at a top speed of  430 kmph, though the average speed is 245 kmph because of track limitations.