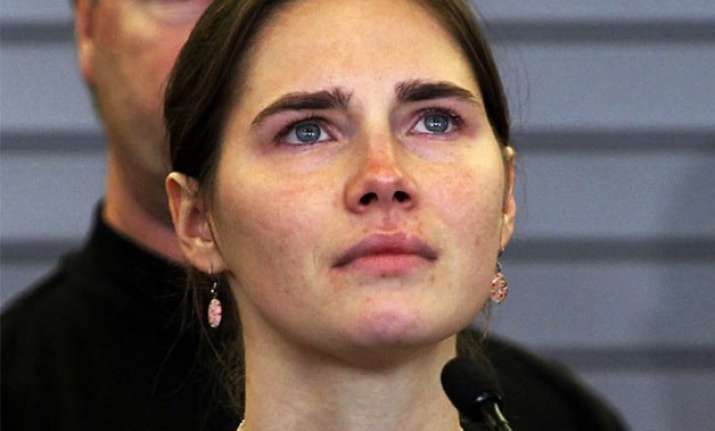 New Delhi: Italy's apex court acquitted American Amanda Knox of murder, ending her legal saga.
The surprise decision ended the 8 year legal battle waged by Knox, 27, and co-defendant Raffaele Sollecito, 31, to clear their names in the gruesome 2007 murder and sexual assault of British student Meredith Kercher.
The case attracted strong media attention due to the brutality of the murder and the quick allegations that the young American student and her new Italian lover had joined a third man in stabbing to death 21-year-old Kercher in a sex game gone awry.
The court found the two guilty in December 2009 of murder and sexual assault and sentenced Knox to 26 years of imprisonment, including one year for slander, and Sollecito for 25 years. oth were acquitted and freed in 2011.
Flip-flop guilty-then innocent-then guilty verdicts cast a shadow on the Italian justice system and polarized trial watchers on both sides of the Atlantic, largely along national lines.
In a statement issued from her home in Seattle, Knox said she was "relieved and grateful" for the decision.
What was the case?
Kercher, a 21-year-old British exchange student from the University of Leeds, was found murdered on Nov. 2, 2007, in the apartment she shared with Knox and two other students. Her throat was slashed and she had been sexually assaulted.
Knox and Sollecito were arrested a few days later along with Rudy Guede, an Ivory Coast native raised in Perugia. Guede was convicted of murder in a separate trial and is serving a 16-year sentence. He acknowledged being in the apartment at the time of the murder and his DNA was found at multiple places in Kercher's bedroom. His conviction specified that he committed the crime with others, and he claimed that Knox and an unidentified man were present.
Knox and Sollecito had always maintained that they were innocent.
Knox happy with court's decision
Knox graduated from the University of Washington last year with a degree in creative writing. She recently started working as a freelance reporter for the West Seattle Herald. Knox also wrote a memoir about her life and her experiences in Italy, which was published in 2013. She was paid a reported $4 million.
She plans to marry Colin Sutherland, a musician who recently moved to Seattle from New York.