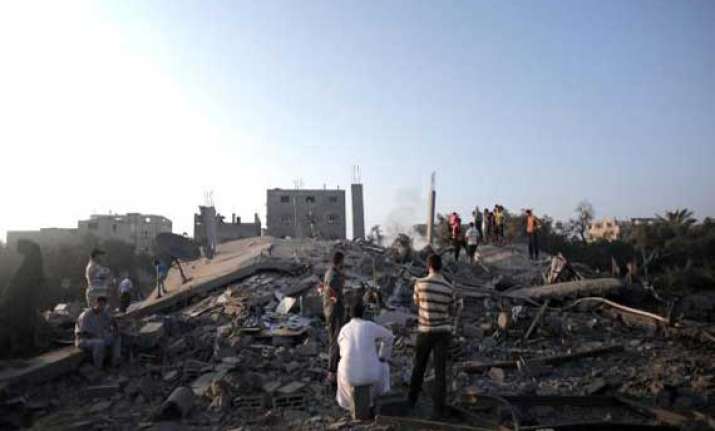 Jerusalem: Israel today asked its military to call-up 40,000 reservists as Prime Minister Benjamin Netanyahu ordered defence forces to "take off the gloves" and prepare for a "strong" ground offensive in Gaza against Hamas militants amid airstrikes that killed at least 12 people and wounded 80 others.
Israel Defence Forces chief of Staff Lt Gen Benny Gantz requested the call-up of 40,000 reserves in order to replace conscripted forces in the West Bank, and enable their deployment to the Gaza border.
The Prime Minister's Office did not confirm reports that the security cabinet approved the request which was made hours after Operation Protective Edge was launched in an effort to quell rocket fire from the Gaza Strip, Jerusalem Post reported.
Meanwhile, Netanyahu held a high-level meeting with Defence Minister Moshe Ya'alon, Chief of Staff Gantz and Israel's internal security agency Shin Bet's Chief Yoram Cohen.
"Hamas chose to escalate the situation and it will pay a heavy price for doing so," Netanyahu said during the meeting.Netanyahu said that the time had come to "take off the gloves" against Hamas.
"The Prime Minister's instruction by the end of the meeting was to prepare for a thorough, long, continuous and strong campaign in Gaza," a senior official said.
"The Prime Minister instructed the army to be ready to go all in. A ground offensive is on the table," he added.
The decision comes in the wake of foreign minister Avigdor Lieberman, leader of the ultranationalist Yisrael Beitenu party, snapping a 20-month-old alliance with the ruling Likud Party yesterday, over the fractious coalition's response to frequent attacks by Hamas.
Operation Protective Edge, which has seen airstrikes targetting 100 Hamas positions in Gaza Strip, came after more than 250 rockets were fired into southern Israel in recent weeks.  An airstrike on a car in Gaza City killed four people, Palestinian medics said.
It came shortly after another air strike killed a Palestinian in central Gaza.  In a separate incident, a missile slammed into a house in the southern city of Khan Yunis killing seven people and wounding 25 others, medics said.
The Israeli officials said that the purpose of the operation is to exact a heavy price from Hamas, in order to restore deterrence and calm in the south.
"Our increased response will be well felt on the ground," he said. Palestinian president Mahmud Abbas today demanded immediate halt of all military operations against Gaza.