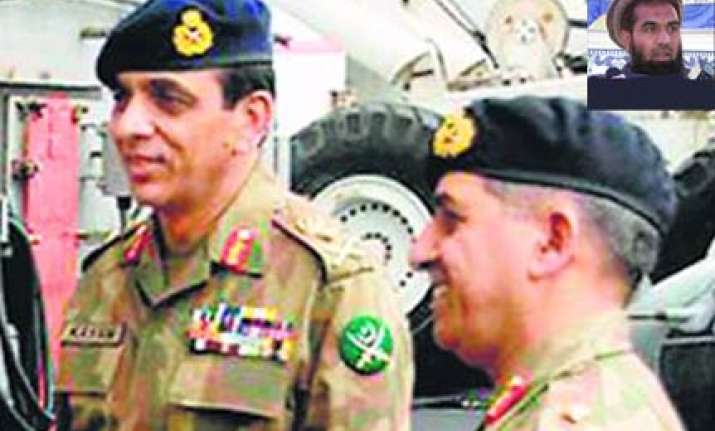 New Delhi: Arrested Lashkar-e-Toiba operative David Coleman Headley has told Indian interrogators that Pakistan ISI chief Lt Gen Ahmed Shuja Pasha visited Adiala Jail in Rawalpindi to meet Lashkar's chief military commander Zaki-ur-Rehman Lakhvi, held for the 26/11 attack on Mumbai. Headley also said "every major action of LeT is done only after the approval of (outfit founder) Hafiz Saeed", reports The Indian Express.
A Pakistani-American who scouted targets in Mumbai for the Lashkar, Headley was interrogated for 34 hours by a team of the National Investigation Agency (NIA) between June 3 and June 9 in Chicago.
According to a report on the interrogation, accessed by The Indian Express, Headley provided details about the role of the Pakistan government, the ISI and its tie-up with the Lashkar in the 26/11 attack.
Headley told the NIA that ISI paid Rs 25 lakh to Lashkar for purchase of the first boat which was destroyed in a botched attempt to set out for Mumbai in September 2008. "Headley mentioned that getting a boat loaded with weapons to India has been cleared by Pakistan government authorities," stated the NIA report.
"After the Mumbai attack, Zaki-ur-Rehman Lakhvi was arrested and kept in Adiala jail. DG (ISI) Shuja Pasha had visited him to understand the Mumbai attack conspiracy. Sajid (top Lashkar commander Sajid Majid or Sajid Mir or Wasi present in the 26/11 mission control room) had claimed before Headley that he had met Zaki when the latter was in jail," stated the report, quoting Headley.
The ISI, he said, was fully involved in 26/11 and the attacks were possible due to complete support of the Pakistani intelligence agency. "The money which was used by Headley for surveillance activities in Mumbai was provided by Major Iqbal of the ISI. Every big action of LeT is done in close coordination with the ISI. Every important member of LeT is handled by one or more ISI officials. His (Headley's) ISI handlers were Major Iqbal and Major Sameer Ali. Abdur Rehman Saeed or Hashim was handled by Colonel Shah. Similarly, he knows that one Brigadier Riyaz, based in Muzaffarabad (PoK), handles Zaki-ur-Rehman Lakhvi, the chief military commander of LeT," the report stated.
Headley, who visited India for reconnaissance nine times from 2005 to 2009, told the NIA that until his sixth visit, the Taj Hotel was the only Lashkar target. "Sajid had told him on a number of occasions to complete the Taj Hotel reconnaissance. Sajid would also discuss plans like attacking the Taj Hotel during a conference of software engineers by two/three attackers. They had plans to send the attackers through Nepal or Bangladesh. After March 2008, multiple attackers and sea routes were discussed by the LeT leadership," the report stated.
"Every major action of LeT is done only after the approval of Hafiz Saeed. Headley maintains that Saeed had full knowledge of Mumbai attacks and it was only launched after his approval. Headley believes that Saeed never acknowledges it publicly, though he remains abreast with each and every stage of planning and execution (of terror operations). During his meeting with Saeed, he also mentioned Bal Thackeray (Shiv Sena chief) and the damage he (Thackeray) had done to the Muslim Ummah. Headley believed that this was an indication that LeT wanted to take action on this front," the report stated.
Headley recognised the voices of Sajid Majid alias Mir, Abu Al Qama and Abu Qahafa but could not place the fourth voice. "Headley believes that the person giving instructions to the terrorists at Chabad house was Sajid Majid. Sajid instructed the terrorists to kill everybody, including women, in Chabad House. Abu Al Qama was also talking to the terrorists and it was he who was saying to the attackers that the entire Muslim Ummah is looking up to them and they should not fail them. Sajid later told Headley that Abu Hamza was also present in the control room," stated the report.
Sajid Majid even showed photos of the Mumbai gunmen to Headley before the attacks began on 26/11. The interrogation report also states:
--LeT has now formed a naval wing under Yaqoob which will be used against India.
--Identified the photographs of Sajid Majid, Abdur Rehman Hashim and Abu Al Qama.
--Details of some LeT/ISI safe houses, operational camps and LeT's technological capabilities.
---States that activities relating to the task given to him by LeT were not known to any person in India.
--Headley, after 26/11, became close to Illyas Kashmiri of al-Qaeda's 313 Brigade and Abdur Rehman alias Pasha who parted ways with LeT.
--Headley used to separately brief his ISI handler after each reconnaissance mission to Mumbai. He also carried out exclusive reconnaissance missions for his ISI handlers.
--Headley admitted that his reconnaissance videos on five targets in Mumbai, which were attacked on 26/11, were crucial to the mission success.
He also stated that reconnaissance videos in respect of other targets in Mumbai, Delhi, Pune, Goa, Pushkar (Rajasthan) will be used by LeT or 313 Brigade to attack India on a large scale.