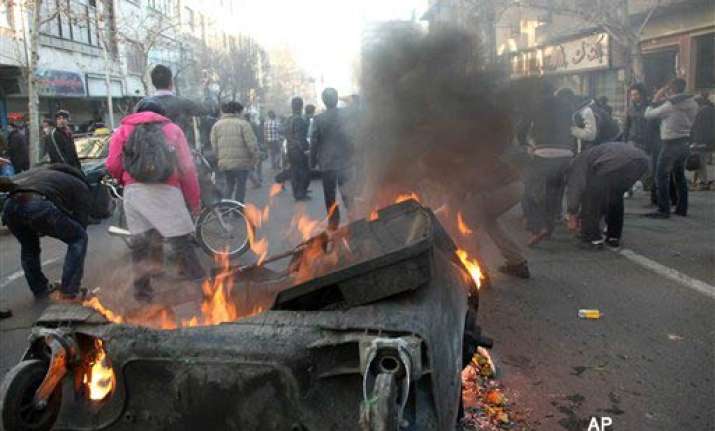 Tehran, Feb 14 :  Riot police today fired tear gas and paintballs at protesters staging anti-government demonstrations in Tehran under the pretext of rallies supporting Arab uprisings, websites and witnesses said.
Police moved in when crowds of opposition supporters gathered at Tehran's prominent Azadi (Freedom) Square began chanting "Death to Dictator!" -- a slogan used against
President Mahmoud Ahmadinejad after the disputed 2009 presidential election.Kaleme.com, website of opposition leader Mir Hossein Mousavi, said that  according to "unconfirmed reports,hundreds of protesters were arrested in Tehran."
There was no immediate official confirmation of any arrests.The demonstrations, staged despite a ban on rallies, marked the first anti-government protests in Tehran since February 11, 2010, when activists took to the streets to mark the 31st anniversary of the Islamic revolution.
Opposition website Rahesabz.net said clashes were also reported near Tehran University and on the road connecting Azadi Square with Enghelab Square.It said tear gas was fired by police as protesters chanted "Ya Hossein, Mir Hossein" a slogan from 2009 in support of Mousavi.Rahesabz.net also reported chanting against supreme leader Ayatollah Ali Khamenei, with shouts of "Ben Ali Mubarak, It's your turn Syed Ali!"
"Police also barged into buses stuck in traffic on the road (between Azadi Square and Enghelab Square) and beat women passengers to spread fear among passengers," Kaleme.com reported.It said protesters using roadside telephone booths and recording footage on mobiles were also subject to police assaults.
Websites and witnesses said thousands of opposition supporters had taken to the streets of Tehran in support of Arab revolts despite a heavy police deployment.
Some set fire to rubbish bins while chanting slogans in apparent reference to Ahmadinejad.Mobile phone services were cut and there were power blackouts in areas where the protests were taking place, witnesses said.
The authorities earlier surrounded the house of Mousavi to prevent him from attending the rally which regime-backers said was a cover for protests similar to those which shook the foundations of the Islamic republic in 2009.  AFP