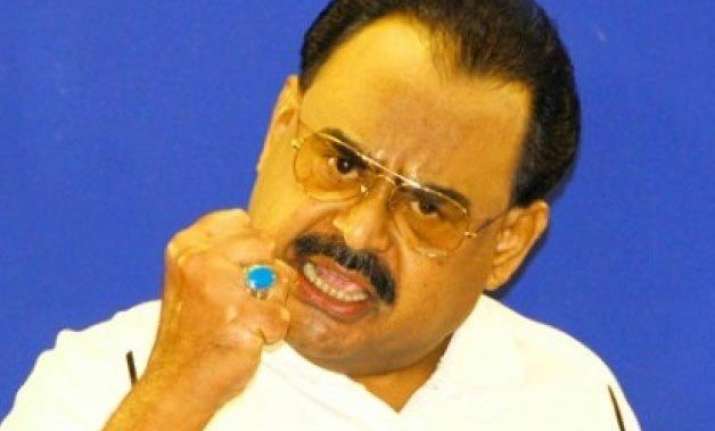 New Delhi: Pakistan's Muttahida Qaumi Movement (MQM) leader Altaf Hussain has said that India should be ashamed for allowing bloodshed of Mohajirs in his country.
According to a report published in Pakistani daily The News,  Altaf said, India itself is a coward country, if it had some honor it would not have allowed 'bloodshed of Mohajirs' on Pakistani soil.
He accused Pakistan's paramilitary force of taking more than Rs1 billion in bribes to release MQM workers from custody. "Even the Indian army did not mete out such an insulting treatment to the 93,000 Pakistani soldiers it made prisoners of war in 1971," he said.
He reiterated the demand for a separate province for Mohajirs.
He was addressing MQM's Annual Convention in the US city of Dallas via telephone on Saturday.
Hussain asked his party workers to stage protests in front of United Nations, White House and NATO and raise a demand for sending their troops to Karachi.
MQM Chief also asked his party workers to write letters to US newspapers and make them aware of the actual situation in Pakistan.
Altaf Hussain asked MQM workers to continue their movement for respectable life of mothers, sisters and daughters even if he was murdered.
Dismissng the money laundery charges ,Hussain  said, all the bank accounts in London had been frozen and the party members were dealing with a difficult situation there.
Terrorism is biggest threat for Pakistan, he asserted, claiming that the organizations banned by the Interior Ministry were still operating in the country.
The Pakistani government has decided to file a legal reference with London police against Hussain for appealing to India and Nato forces for help and criticising the security establishment in a provocative speech late Saturday.
"The speech from the MQM's London office is an attack on Pakistan's sovereignty. A legal reference will be filed with the UK government and Metropolitan Police in the coming days," Pakistan Interior Minister Chaudhry Nisar Ali Khan told reporters on Sunday.
Meanwhile, Altaf Hussain was today declared an absconder by an anti-terrorism court here in connection with a case in which he is accused of threatening Pakistan Rangers in Sindh.
Colonel Tahir of Pakistan Rangers had filed a FIR against Altaf Hussain in June and in July FIRs were registered in different parts of the country against the MQM chief over remarks made by him against the chief of Rangers in Sindh and the paramilitary force in recent speeches.