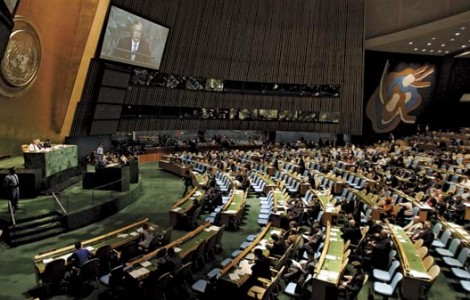 UNITED NATIONS: India has been elected to the board of a new UN agency to promote equality for women but Iran failed to win a seat due to strong opposition from the US and human rights groups.
UN Women is the amalgamation of different United Nations bodies focused on women. It was created this year to look exclusively at gender equality and empowerment of women.
The 41-member executive board also includes the US and Britain, which won seats in the donor nations category.
"We are one of the countries that have attached the highest importance to gender mainstreaming and female empowerment in the UN," Indian envoy to UN Hardeep Singh Puri said after the vote.
"India also has a tremendous and sui generis experience in nation building with women at the center and that is the experience we will bring to the executive board of UN Women," he added.
At the same time, Puri noted that India had a long way to go to improve its women's conditions.
"In a society which has a major developmental challenge and where they are issues to development and poverty we still have a long way to travel," he said.
"Its a two way process while we bring a very good experience to the table of UN Women, equally our participation there will allow us to make a message back to India."
"Whether a country has a record in human rights that is something that civil society, NGOs and other governments have the right to express themselves," said Puri.
"Those articulation of assessments will weign in on the prospects for those countries and that is what we're seeing," he added.
Meanwhile, the vote was focused on Iran which failed to receive required number of votes whereas, Saudi Arabia, which observers believe has more deplorable track record for women's rights than Tehran, was elected as a board member.
Iran was initially running uncontested for 10 Asian seats but then East Timor joined the fray, which made the election competitive and Iran lost. Iran received just 19 votes and East Timor got 36 from the 54 nations, which constitute the UN Economic and Social Council that voted.
Saudi Arabia got an automatic seat. "The membership of countries like Iran and Saudi Arabia is like a joke," said Shirin Ebadi, 2003 Nobel Peace Prize Laureate, ahead of the elections, noting that Saudi Arabia treated women even worse than Iran.
Other controversial countries to be elected were Libya and the Democratic Republic of Congo, which is described as the rape capital of the world.
Both countries ran uncontested as did Saudi Arabia. After the elections, US ambassador to UN Susan Rice said that the US encouraged East Timor to run.
"We've made no secret of our concern that Iran joining the board of UN women would have been a inauspicious start to that board," Rice told journalists.