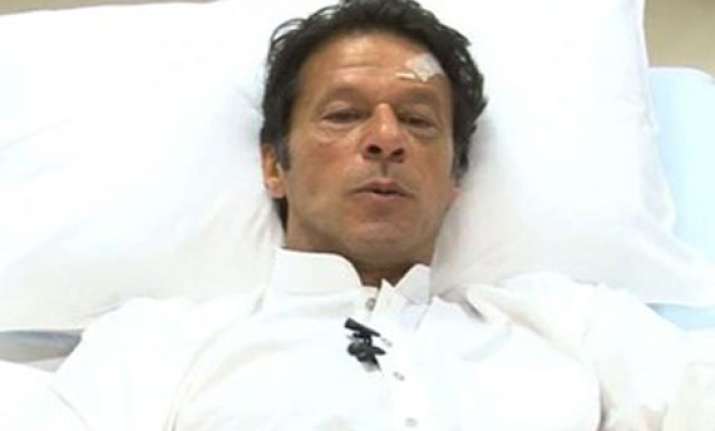 Lahore, May 22: Pakistan Tehrik-e-Insaf chief Imran Khan was today discharged from a hospital here, over two weeks after he fractured his spine in a freak accident at an election campaign meeting.
"We are pleased to announce that this morning, Imran Khan was discharged home from Shaukat Khanum Memorial Cancer Hospital and Research Centre," the hospital said in a statement here.
Yesterday, the cricketer-turned-politician was fitted with a specially designed brace or spinal support and he walked unaided for over 300 metres, said doctors. Khan would have to wear the brace for four to six weeks, they said.  Imran today walked from his room on the third floor of the Hospital to the exit on the ground floor, unaided, the statement said. "As previously explained, Imran will continue to receive regular physiotherapy."
The 60-year-old was ordered by doctors to remain immobile after he fractured several vertebrae and a rib when he fell 4.5 meters from a fork lift that was raising him to a stage at an election rally on May 7, ahead of the May 11 polls.  
The general election was won by the PML-N led by former premier Nawaz Sharif while Khan's party finished in third place in the National Assembly or lower house of parliament.  His Pakistan Tehrik-e-Insaf is set to form government in the militancy-hit Khyber-Pakhtunkhwa province.  While leaving the hospital, Imran thanked all his friends, well-wishers and the millions of individuals all over the world who had offered their sympathy, prayers and support throughout his illness.