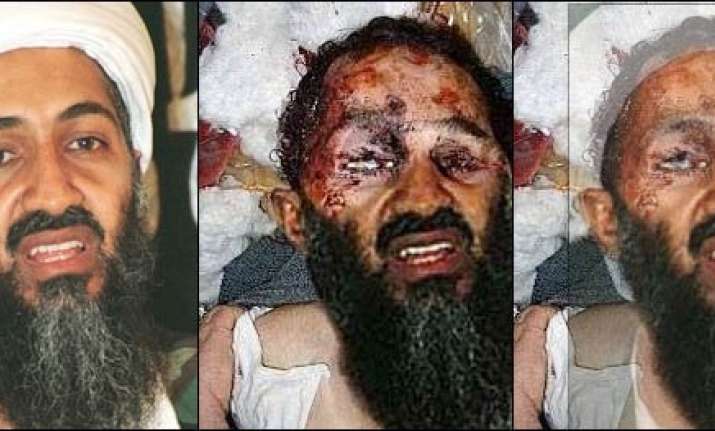 Islamabad, May 2: Pakistani television stations on Monday withdrew an image broadcast of the purported body of Osama bin Laden after his killing not far from Islamabad overnight, saying the picture was a fake.

Several private channels showed what they called an "unverified" picture of bin Laden's bloodied face after the United States said he had been killed.

"It was a fake picture, it was on the Internet in 2009," Rana Jawad, Islamabad bureau chief of Geo television, told AFP.

"When we checked we found it was fake and we pulled it out," he said.

Pakistani channels earlier showed the image of a face sporting a bushy and black beard with less of the white or grey hair detected in the most recent video footage of bin Laden when he was alive.

There were extensive blood stains on the forehead and left temple. The right eye was shut but the white of the left eye was visible.

Television also broadcast footage of flames rising from a compound in Abbottabad overnight and footage after daybreak of armed Pakistani forces standing guard at the building where bin Laden was reportedly killed.

The compound is in Bilal Town, in the suburbs of Abbottabad, which is about 50 kilometres (30 miles) northwest of the Pakistani capital Islamabad.

One local resident told AFP that he heard helicopters circling overhead before heavy gunfire erupted between midnight Sunday  and 1:00 am on Monday.

"People were sleeping. I heard helicopters roaring in the sky," the man told AFP on condition of anonymity because he was worried about security.

"I woke up and then heavy firing started. It was severe. It continued for quite some time, then I heard a heavy explosion. It was huge. People woke up and came out of their houses. We didn't know what was going on."

"We heard ambulance sirens and security people shouting. We saw flames coming out of one place. Everybody is scared. I am afraid.

"Today I heard from the TV about Osama's death. I haven't sent my children to school. Police and other security people have cordoned off the whole area and we are not allowed to go out," the resident added.

 
We think that bin Laden 'death photo' is a fake

Stokes Young writes

Graphic image below: Please be forewarned that an image lower down on this post looks like the bloody face of a dead body. Some viewers might find it disturbing. We don't think the wounds are real, but you still might not want to look at it.

An image circulating on the Internet and displayed on some television news programs abroad purports to show Osama bin Laden's bloody corpse. No U.S. or Pakistani officials have confirmed its authenticity, and two U.S. officials have warned NBC News that the image is a hoax.

Based on an initial look into the image file, we agree, and think it's a fake. At first glance, the pixelation around the "wound" area and the odd lack of transition between different colored cloth and flesh indicate that the image has been manipulated.

Furthermore, the facial expression and beard are very reminiscent of a 1998 image of bin Laden, the first picture shown below. Next to it, we show the original resolution of the "corpse" image as we've seen it (197 by 263 pixels), "flopped" 180 degrees on the horizontal axis to conform to the original 1998 image's beard orientation. The third image is a blended image of the two, with the "corpse" image at 100 percent opacity below the original image at 43 percent opacity. The way the images "lock" in place at the mouth, beard and nose indicate to us that the image circulating on the Web and some foreign television outlets is nothing but a clumsy fake:

The picture on the left is a file photo from Reuters. The center image was sent in by a number of readers as an email attachment--it's initial provenance is unknown. The image on the right is a blend of the two others we made here at msnbc.com.

Iraqis in Baghdad watch a news broadcast on Arabic satellite news channel Al-Arabiya showing an image which has been circulating on the internet and allegedly shows the body of Al-Qaeda mastermind Osama bin Laden.