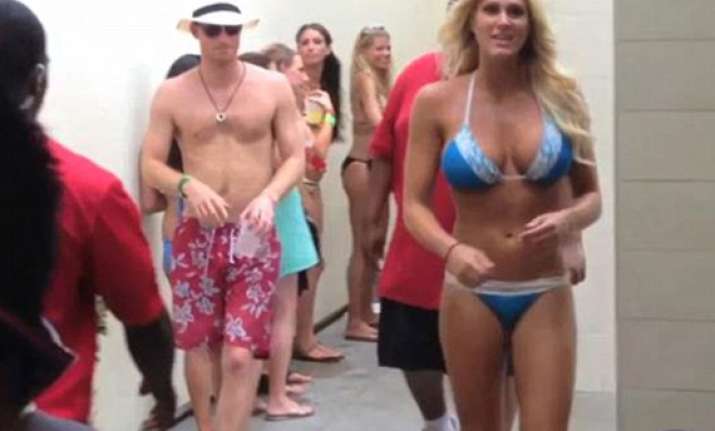 London, Sep 16 : The London tabloid Daily Mail has raised questions  over the failure of royal protection police to stop the pictures of a topless Duchess Kate being taken – or alert the couple to the lurking danger.
Just three weeks ago their fellow officers failed to prevent photos of a naked Prince Harry being taken in Las Vegas.
A paparazzo would have used a super telephoto lens to capture the images of topless Kate which appeared in Closer magazine, the Daily Mail reported.
It is thought the photographer would have used a vantage point on the nearest public road where the Chateau d'Autet can clearly be seen a kilometre away across a valley.
Ken Wharfe, who guarded Princess Diana, said: 'The concern is that their security team apparently did not liaise with French police and security.
'If a photographer can poke a lens through some greenery and take these type of pictures then a gunman with a high-powered weapon and telescopic sight could have done far worse. That is really shocking.
'How this area was not checked out by their security people is unbelievable. These shots were taken from a public road for God's sake.
'There should have been an exclusion zone put around the place in which they were staying.'
The photographer would have used a 600mm or 800mm telephoto lens with a 'doubler' attachment that increases the magnification of the lens.
The image would then be edited to further magnify the shot of the Duchess – and digitally enhanced to improve the quality and definition of the final picture.
The chateau sits on the side of a mountain in the picturesque Luberon region of the south of France.
It is surrounded by the white oak forests of the Luberon natural park. A field of lavender sits below.
The chateau o Wednesday was locked. A locked metal gate barred the entrance to the winding tree-lined, paved drive. Masking tape covers the name 'Chateau Autet' on a white signpost while another notice warned passers-by, 'Do not enter, private property' Warnings that the property was under 24-hour surveillance were also posted.
The chateau is three miles from the medieval walled town of Viens, where the mayor on Wednesday  refused to comment on the storm surrounding publication of the pictures. 
A spokesman said: 'The mayor will not say anything about this drama. 'We knew that Prince William and his wife came to the chateau for a holiday but nothing more.' Stephane Legal, who is a local geologist, described what had happened to Kate as 'a shame'. 
She added: 'I heard about the story but I only now found out that the princess was photographed here.  
'I am not interested in celebrity news. It's a shame she could not enjoy her holiday in peace.'