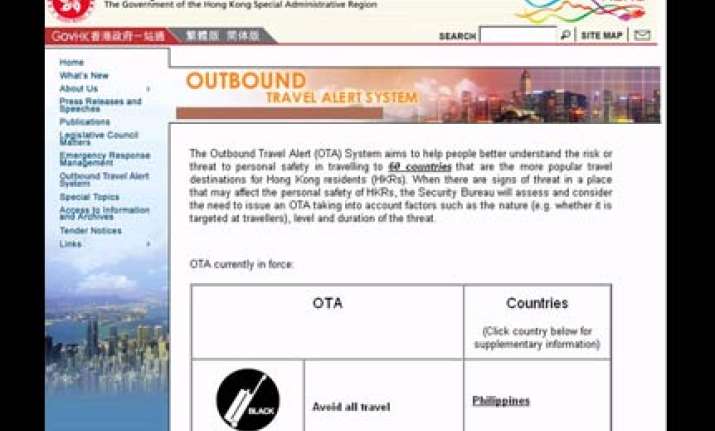 Hong Kong, -- Lau Mei-sze, manager of Hong Thai travel agency which had organized the Hong Kong tour group to the Philippines, said the Hong Kong government has decided to send a chartered plane to the Philippine capital Manila on Monday night to carry back tourists involved in the abduction incident.
Lau told reporters that the chartered plane was expected to leave for Manila before Monday mid-night local time. Aboard the chartered plane would be representatives from the Security Bureau of the Hong Kong government, Department of Immigration and Hong Thai travel agency as well as medics and psychologists.
Lau said the city's government has issued the Black Outbound Travel Alert for the Philippines. The black alert is the highest level of Hong Kong's three-sign Outbound Travel Alert system, indicating a "severe threat" exists and all travel to the destination should be avoided.
Hong Kong government said it has asked the city's Travel Industry Council to forward messages to Hong Kong's tour groups still in the Philippines, requiring them to come back to Hong Kong as soon as possible.