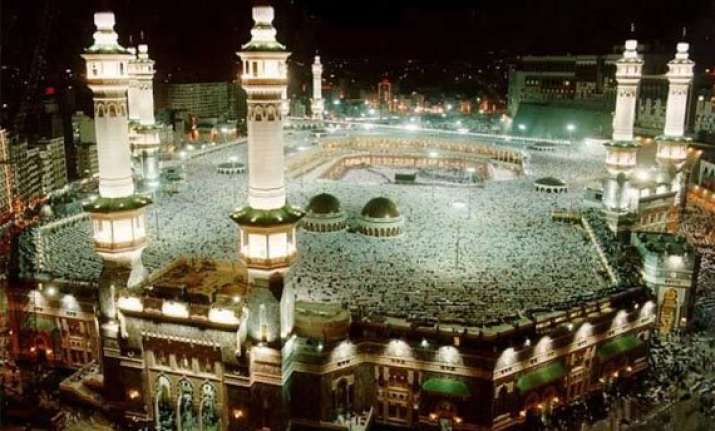 Mina: Chanting "Labbaik Allahumma Labbaik", hundreds of thousands of white-clad Muslims, including Indians, streamed into Mina in Saudi Arabia as the first leg of the annual Haj pilgrimage began today.  
Many pilgrims out of the over two million performing Haj this year left for the tent-city of Mina straight after Isha prayers last night while others left early this morning after Fajr morning prayers.
Among the first group of pilgrims to arrive in Mina were some 136,000 Indians, besides Pakistanis and Bangladeshis.  
Chants of "Labbaik Allahumma Labbaik" (O God, here I am answering your call), and "Allah hu Akbar" (God is great) reverberated as the pilgrims began moving to Mina from the holy city of Mecca in groups.
Most pilgrims embarked on the journey on board buses arranged by their respective Haj missions and the Saudi government but some others preferred moving on foot.  
By midnight, Mina was teeming with pilgrims, who were seen exchanging pleasantries after settling down in their respective locations.
"All Indian camps in Mina have been inspected and are in order," Indian Consul General B S Mubarak told PTI.  
In a message to all the Indian pilgrims before they left for Mina, Mubarak said, "Be patient. Eat healthy food. Do not get exposed to heat.
Know your tent number and pole number.  Take less luggage and keep some dry fruits and fruits".  "Always try to go in small groups if you have some problem approach the Haj mission," he said.
The Saudi government agencies have made elaborate arrangements to ensure the smooth flow of pilgrims from Mecca, Medina, Jeddah, Riyadh, Taif and Dammam into the tent city.  
This marks the first leg of the pilgrims' journey of a lifetime and they were full of emotions and excitement as they moved towards Mina.
Lateef Mohammad Jagirdar from Jaipur, Rajasthan, and his wife Shabana Begum were very happy to be here for Haj.  
"We can't describe our feelings. We have been in the queue for three years. More than 360,000 had applied for Haj this year in India and only 136,020 were lucky to come here. We are among the lucky ones," Jagirdar said.
He said his relatives and acquaintances have asked them for prayers.
"We have a long list of requests. We will beseech Allah from Mina and the plains of Arafat to answer our prayers," he said.