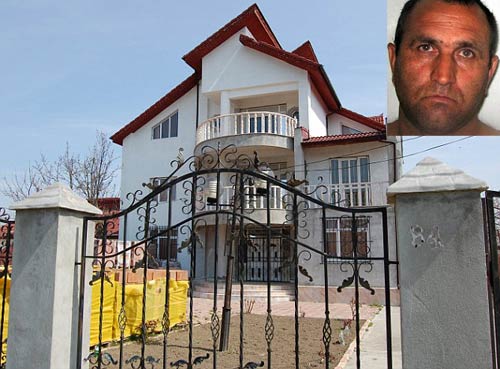 A Romanian gypsy who stole at least £113,000 in benefits to fund a life of luxury has been jailed for three years by a British court on Monday, Daily Mail reported.
Illie Schian, 47, bought sports cars, motorcycles, quad bikes and electrical goods with money he received from British hand-outs.
Using taxpayers' cash, he even built his family a nine-bedroom mansion in Romania, complete with marbled floors, a spa bath, servants' quarters and two kitchens filled with modern appliances.
He is also accused of involvement in a people-smuggling ring that sent around 180 children to Britain to beg and steal.The fraudster amassed a £20,000 nest egg in a Romanian bank account before he was finally caught by police.
Schian, from Enfield, North London, applied for political asylum under an assumed name when he arrived in the UK 11 years ago, claiming he had been persecuted in Romania because he is a gypsy.
He was granted indefinite leave to remain in the country, but he proceeded to fleece British taxpayers out of tens of thousands in job seekers' allowance, child benefit and housing benefit before he was arrested in July this year.
The Romanian was jailed for three years after he admitted a string of fraud charges at Southwark Crown Court on Friday.
Justice James Wadsworth QC said: 'You did your utmost to defraud the public. You did it in a determined and skilful manner and I have been shown photographs of how your family appears to have become very prosperous.
'I am satisfied that you skilfully and deliberately profited greatly and enjoyed it enormously.'The judge recommended Schian should be deported after serving his sentence.
Earlier the court heard how Schian claimed asylum under the false name of Nelus Gheorghe in September 1999.
He was granted indefinite leave to remain in March 2004 and his family came to Britain to join him. But shortly afterwards he was jailed for 15 months for theft.
On his release from prison, he disappeared and began to commit benefit fraud using his false identity.Through this he netted a total of £113,889 in just three-and-a-half years.
He was arrested four months ago following a long-running investigation into the organised crime gang he was part of.
Prosecutor Martin Whitehouse told the court: 'The defendant came to the country intending to defraud the benefits system and, as soon as he could, he did just that. This was a shameless act.'
The court heard that between January 2007 and June this year, Schian pocketed tens of thousands of pounds in job seekers' allowance claimed from the Department for Work and Pensions.
He also had child tax credit and child benefit from Her Majesty's Revenue and Customs, and housing benefit and council tax benefit from Enfield Borough Council.
Whitehouse said Schian had used the money to buy land in his native country. He was in the process of building or extending a nine-bedroom property in the town of Tandarei, eastern Romania.
Schian also bought a BMW and an Audi, a 4x4, motorcycles, quad bikes, and filled his home with electrical items including a washing machine, plasma television and a cooker.