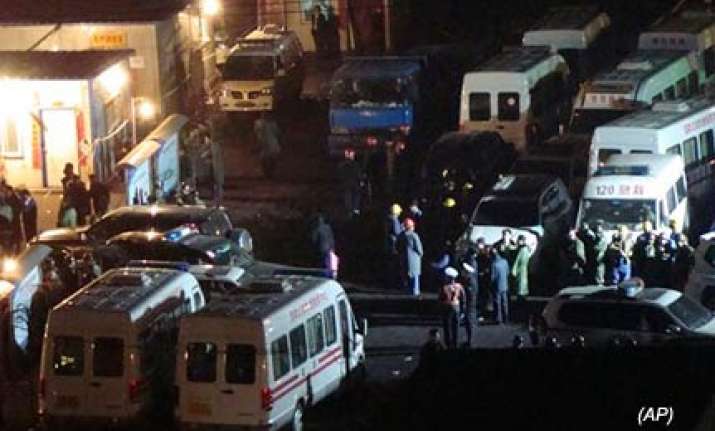 Rescue workers were racing against time to save the 153 miners trapped inside a flooded coal mine in north China on Monday as frantic efforts are on to pump out water inundating the pit.
Six pumps were pumping up to 300 cubic meters of water per hour round-the-clock at the site and rescue workers say survival chances of the trapped workers were looking better.
Workers from the rescue headquarters were in the process of installing two huge pumps with a capacity of draining 450 cubic meters of water per hour and were trying to bring in huge pipes as long as 2,000 meters to drain out the flood water and maintain ventilation amid drizzle.
More huge machines and equipment are being transported to the site of the accident from adjacent regions and Beijing.
Priority tasks at the moment are pumping water, maintaining ventilation and preventing secondary disasters, official agency Xinhua quoted Liu Dezheng, director of the provincial work safety committee office as saying.
It was earlier presumed that 123 workers were trapped inside the accident-hit mine but later officials said that the number of trapped men was 153.
"Those trapped are my workmates, I just want to try my best to save them," said Xu Shuwei, 40, who was among the last group of workers who escaped the flood by taking a lift to the ground. Xu helped rescuers carry equipment throughout the night.
As many as 261 workers were in the pit of Wangjialing Coal Mine, presently under construction, when underground water gushed in yesterday. Of them, 108 were lifted safely to the ground while 153 others were trapped in the shaft, according to the rescue headquarters.
President Hu Jintao and Premier Wen Jiabao have asked local authorities to spare no effort to save the workers. Vice Premier Zhang Dejiang reached the accident site early today to oversee the search and rescue operation. PTI