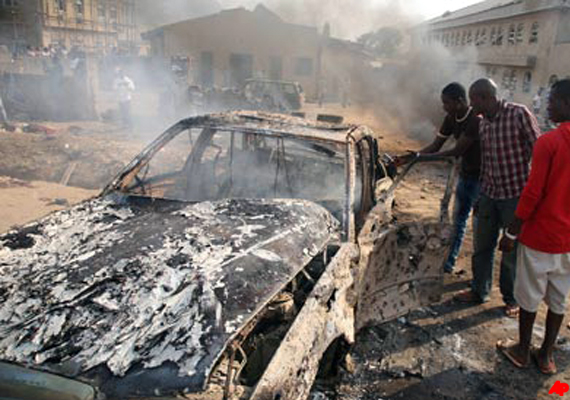 Kano, Nigeria, Feb 11: Two explosions went off Friday outside a customs building in Nigeria's flashpoint city of Maiduguri, killing four bombers and wounding two soldiers, the military and residents said.

A spokesman for the military Joint Task Force (JTF) deployed in Maiduguri, the base of Boko Haram Islamists blamed for a series of attacks, said four suspected members of the sect were killed and two soldiers wounded.

"At about 3:30 pm today a car containing a bomb exploded. Four members of Boko Haram died in the car bomb by the fence of the customs barracks in Maiduguri metropolis," Lieutenant Colonel Hassan Mohammed said.

"Some IEDs (improvised explosive devices) exploded and two members of the JTF sustained minor injuries," he said.

Maiduguri residents confirmed the blasts.

"I was in a taxi going home when the first bomb exploded... (within) just two minutes another one ahead of us went off," said resident Babagana Ari, whose account was supported by others in the northeastern city.

The blasts went off near a station where locals board rickshaw taxis, located outside the customs building, witnesses said.

"The first bomb was planted at the foot of the wall of the customs office when commuters were waiting for rickshaws," said Halilu Adam. "The second one went off some metres away.

In a related development, suspected Boko Haram gunmen attacked a police station in Shagari quarters in Kano late Friday, leading to a shootout with policemen, residents said.

"We were sitting outside the house when some gunmen stormed the area and opened fire on the police station and we ran indoors," said Abdullahi Musa, who lives near the police station.

"There was a shootout between the gunmen who were from all indication members of Boko Haram and the police which lasted 15 minutes," he said.

"We don't know if there were casualties because everybody is afraid to go outside".

Boko Haram has claimed attacks that have killed more than 200 people this year in several parts of Nigeria.

The group has largely targeted police and other symbols of authority.

In several recent statements issued to journalists in its stronghold of Maiduguri, the group has vowed to continue its violent campaign if the government does not meet its demands.

Those include the release of all group members it claims are being illegally detained and an end to what it terms the government's mistreatment of Muslims.

Some of Boko Haram's recent attacks have claimed scores of lives, including coordinated assaults on January 20 in Nigeria's second city of Kano that killed at least 185 people.

Since the Kano attacks, the group's deadliest yet, Boko Haram has claimed several small-scale assaults in different northern cities.

The Islamists said they were responsible for suicide a blast outside a military barracks in Kaduna on Tuesday, which the army said killed only the bomber.

The latest violence blamed on the group in Maiduguri occurred Monday when a series of explosions set fire to a city market.

The causes fuelling the Boko Haram insurgency have remained largely unknown.

The shadowy sect has said it wants to create a Islamic state across Nigeria's deeply-impoverished mainly Muslim north and some analysts believe the Islamists are increasingly tied to like-minded extremist groups such as al-Qaida.

Other analysts insist the sect is pursuing a narrowly domestic agenda.

But President Goodluck Jonathan, a southern Christian, has struggled to contain the spiralling violence which has shaken the country, whose 160 million population is roughly divided between a mainly Muslim north and predominantly Christian south.

Meanwhile, Niger's President Mahamadou Issoufou said in Abidjan that west African nations must work to prevent a "synergy" between Boko Haram and al-Qaida, adding, "We have to work to stop this."