Follow us on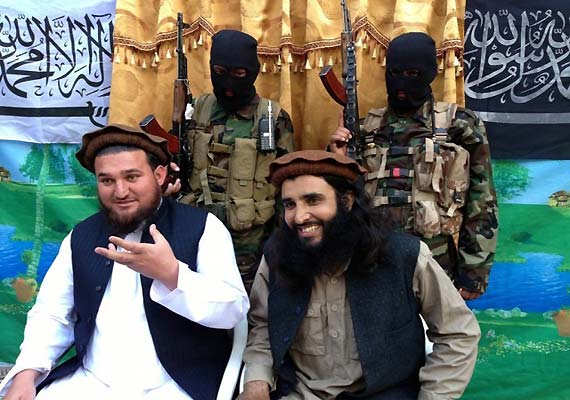 Islamabad, Feb 8: A special fidayeen unit headed by a former Pakistan Air Force personnel has been formed by the Pakistani Taliban and the Islamic Movement of Uzbekistan to attack jails and free imprisoned militants, according to a media report today.
The "Ansar Al-Aseer" (supporters of prisoners) unit is led by Adnan Rasheed, a former Pakistan Air Force personnel who escaped from a jail in the northwestern town of Bannu after it was attacked by some 200 Taliban fighters on April 15 last year.
Rasheed was convicted for an attempt to assassinate former President Pervez Musharraf.
He was recently seen with Tehrik-e-Taliban Pakistan spokesman Ihsanullah Ihsan in a video in which the banned group made a fresh offer for talks with the government.  
A total of 384 prisoners, including dozens of hardened militants, escaped during last year's attack on the Central Jail in Bannu district of Khyber-Pakhtunkhwa province.  Five days after the jailbreak, Ihsan said the raid was meant to free Rasheed.
Rasheed has been made the chief operational commander of the fidayeen unit that will work to free imprisoned militants, The News daily reported.
The development was made public in a video that features Rasheed and Yassin Chouka, one of the most wanted German commanders of the Waziristan-based Islamic Movement of Uzbekistan, and Abdul Hakeem, a Russian member of IMU.
Produced by Umar Media and Jundallah Studio, the media arms of the Taliban and IMU, the video shows Rasheed, Chouka and Hakeem seated under a tree and reading statements.  
Rasheed is seen announcing the formation of Ansar Al Aseer and praising the Taliban for his release.  
Rasheed also said in the video that the new unit will take "revenge" against police and intelligence personnel, jail wardens, officers and others who harass jailed militants or their families.
"We also warn Pakistani security forces and intelligence agencies against harassing the families of jihadi prisoners," he added.
Rasheed, who belongs to Chota Lahor village of Swabi district in Khyber-Pakhtunkhwa, joined the PAF in 1997.  He was arrested for his role in an attempt on Musharraf's life on December 14, 2003.
He was given the death sentence by a military court on October 3, 2005 along with six other air force personnel.  Despite his conviction, Rasheed was shifted from Adiala Jail in Rawalpindi to the Central Jail in Bannu for "inexplicable reasons", the report said.  
Rasheed was also allowed to marry in jail in 2010 and become the father of a daughter.
Several journalists in Peshawar received SMS messages from Rasheed. Several interviews of Rasheed were uploaded on Facebook.
In a video issued after his escape, he confessed to his role in the attempt on Musharraf's life.