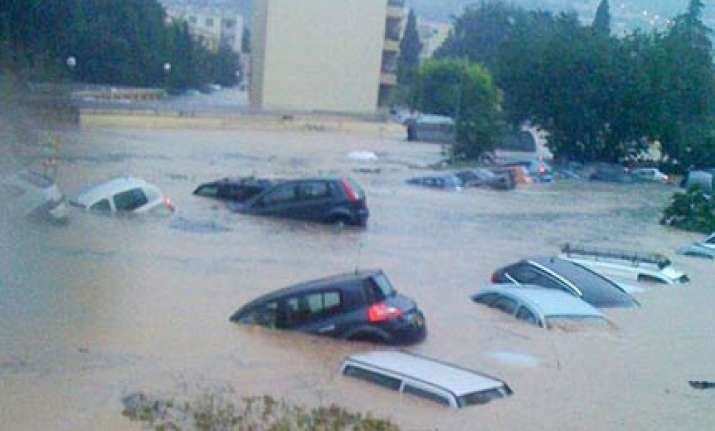 At least 28 people were killed in flash floods that devastated large parts of southern France on Wednesday.
Torrential rain caused rivers in the Var region east of Marseilles to rise by up to 8ft, forcing hundreds of people to seek safety on the roofs of their homes, reports The Daily Mail.
Hundreds more were trapped in their floating vehicles as water flooded roads in towns and villages on Tuesday evening. 
Twelve people remain missing as flood waters in the city of Draguignan remained at about 6.5ft high.
British and Dutch tourists have been left stranded at badly flooded local camp sites, it has been reported.
David Whiting, 72, the stepson of Lord Dowding, who commanded the RAF to victory in the Battle of Britain, said many tourists are stranded in the town of Frejus.
'It is absolute chaos,' Whiting, who lives in the region, told the London Evening Standard. 'It's complete devastation in some parts of the region. 'Hundreds of tourists didn't have enough warning and had to get out of camp sites when the flood waters started coming in.
'Camp sites in the area have been left under two metres of water and people have lost all of their possessions. Many of the tourists are now stranded in local supermarket car parks. They don't know what to do.' 
Residents saw  the swirling waters of the Nartuby River in Trans-en-Provence.  Water levels in the region's rivers rose by 8ft 
Shops and residences in Les Arcs sur Argens were left in ruins
Helicopters airlifted people to safety as more than 1,000 thousand emergency workers were drafted in for the rescue operations.
More than 1,000 local residents had to spend the night in schools and other temporary accommodation.
Engineers are now battling to restore power to around 175,000 homes in the region that have been left without electricity.
Officials said the freak weather was the worst to hit the area for a decade.
Rescue vehicles lay  submerged in flood water  after torrential rain 
Hugues Parant, the top official for the Var department, said: 'We haven't seen anything like this in a decade. Seven inches of rain fell within 12 hours, and even more in the mountains.'
The rising water also trapped a high speed train travelling from the southern city of Nice to Lille in the north with 450 passengers on board. 
450 passengers were led away from a TGV train at Le Cannet des Maures in south France on Wednesday night