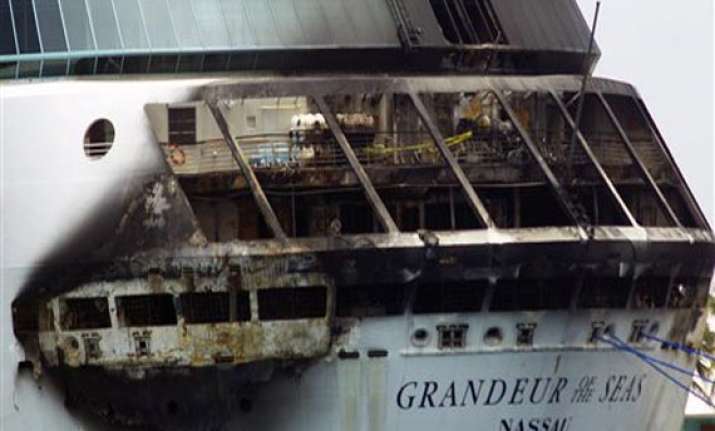 Freeport, May 28: A fire that broke out aboard a Royal Caribbean ship on Monday did enough damage that the rest of the cruise was cancelled and the cruise line said the more than 2,200 passengers aboard will be flown from the Bahamas back to Baltimore.
The fire that began at 2:50 a.m. (06:50 GMT) on Monday was extinguished about two hours later with no injuries reported.
A cause wasn't immediately known.
Royal Caribbean said in a series of tweets that executives have met with passengers and that the cruise line is arranging flights for all 2,224 guests on Tuesday.
It said passengers will receive a full refund of their fare and a certificate for a future cruise.
Aboard ship, the captain announced that passengers needed to go to their muster stations.
One passenger said an attendant knocked on the door and told him and his girlfriend to grab their flotation devices, saying it wasn't a drill.
He said he could smell acrid smoke as he went to their muster station, the ship's casino.
The crew quickly provided instruction.
Royal Caribbean said in a statement on its website that most public areas and staterooms were safe and power, propulsion and communications systems functioned without interruption.
Video shows an substantial area on one end of the ship burned on several decks.
The ship had sailed from Baltimore on Friday and arrived in Freeport, Bahamas, on Monday afternoon.
Royal Caribbean said all guests and 796 crew were safe and accounted for.
The ship will stay docked in Freeport at least overnight.
The National Transportation Safety Board said in a tweet that it will join the U.S. Coast Guard in investigating the fire
Carnival Corp. also had trouble with fire aboard ship earlier this year.
The 900-foot Triumph was disabled during a February cruise by an engine room fire in the Gulf of Mexico, leaving thousands of passengers to endure cold food, unsanitary conditions and power outages while the ship was towed to Mobile, Alabama.