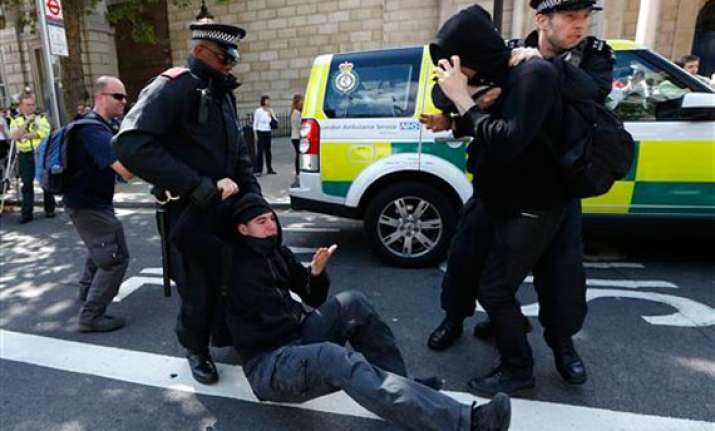 London, May 28: Clashes broke out between police and the the far-right group, the English Defence League (EDL), who marched through central London on Monday.
The demonstrators chanted slogans such as "Muslim killers off our streets" and "There's only one Lee Rigby", according to Britain's Press Association.
Drummer Lee Rigby was murdered in an apparent Islamic extremist attack in south-east London last week.
On Monday, a public holiday in the UK, the demonstrators broke through a police barrier as they made their way to Trafalgar Square, scuffling with police as well as clashing with a smaller group of anti-fascist demonstrators.
Police said three arrests were made during the protest and counter-protest, and that several more arrests were made after the protesters made their way to Downing Street before being dispersed by police.
Meanwhile police said they arrested a 10th suspect in the killing of the 25 year-old off-duty soldier.
London police say a 50-year-old man was arrested east of London on Monday on suspicion of conspiring to murder Rigby.
Police didn't provide further details about the suspect's identity.
Rigby was walking near his barracks in southeast London's Woolwich area last Wednesday when he was run over by a vehicle and repeatedly stabbed with knives and meat cleavers.
Police have already arrested nine others, including two main suspects shot by officers at the scene of the killing who are hospitalised under armed guard.