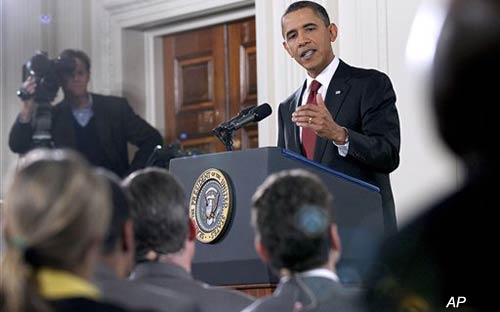 WASHINGTON: President Barack Obama said on Tuesday's elections, in which Republicans  won control of the House of Representatives and gained seats in the Senate, signaled that Americans were frustrated with the pace of economic recovery.
He said Democrats and Republicans must now find common ground so they can solve problems confronting the country."Clearly too many Americans haven't felt that progress yet and they told us that yesterday," Obama told a news conference at the White House on Wednesday."I am very eager to sit down with members of both parties and figure out where we can move forward," Obama said.
"The election ... underscores for me that I've got to do a better job, just like everybody else in Washington does," Obama said.'I have to work harder to build consensus'
Obama said he would have to work harder to build consensus in Washington following midterm elections that ensured divided government.
Obama said that while he is not naive about the difficulty of building bipartisanship, the American people don't want politicians to fight the recent political battles for another two years. The president says he still believes there is hope for civility in politics.
Obama spoke at a news conference in the White House East Room the day after elections that saw his party lose control of the House and lose seats in the Senate.
Obama talks of working with victorious GOP.
Obama said he has spoken to the Republican leaders of the House and Senate and told them he looks forward to working together.
The president said some election nights are more fun than others. He said that regardless of who wins or loses, the outcome is a reminder that power in this country rests not with elected officials but with the people they serve.