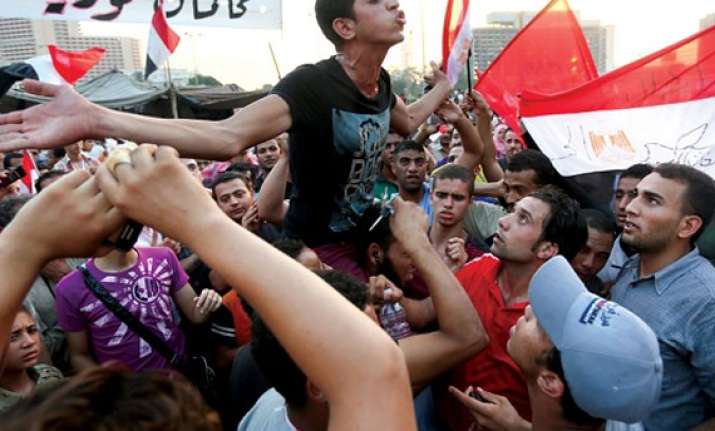 Cairo, Jun 23: Egypt's Muslim Brotherhood today appeared to be backing down from a showdown with the powerful military by negotiating a 'political deal' to pave the way for its candidate Mohammad Mursi to be declared as the country's president-elect by tomorrow.
Quoting sources close to the ruling military council and the Brotherhood, Al Ahram reported that the two sides were locked in an intense negotiation on a compromise agreement to end the current standoff.
The reports of talks between the Brotherhood and the military came as thousands of the party supporters continued to pack Cairo's iconic Tahrir Square to protest against the military's tightening grasp on political power.  
Ahram said that under the deal being worked out, an official announcement would be made that the Brotherhood's candidate Mursi was Egypt's president-elect and in turn the party would pull the bulk of its supporters out of the Tahrir Square and agree to work within the parameters set out by the ruling military council in its latest Constitutional decree.  
The military decree proclaimed earlier this week gives the armed forces full authority over the defence and gives no power to the President to change the minister of defence or make any changes to the military council.
Under the new compromise, the Brotherhood is insisting that the Parliament should not be dissolved and the re-elections be held only for one third of the seats in accordance with the individual candidacy system.  
Lawmaker elected in accordance with the party list proportional representation system, who account for the remaining two third members of the National Assembly would continue to retain their seats under the deal being worked out.
If the deal is reached, Al Ahram said that Mursi would be declared as elected president tomorrow or on Monday.  As the ruling Supreme Council of the Armed Forces (SCAF) and the Brotherhood privately engaged in talks, the Brotherhood kept up the pressure on the military by publicly clashing over recent measures the council has announced.  The delay in the announcement of the June 16-17 run-off -- initially scheduled for Thursday --  has raised suspicions that the outcome of the election is being negotiated not counted.
Hundreds of Brotherhood supporters spent the night in Tahrir Square chanting slogans "Down with the Military" and "Mursi, Mursi, God is the greatest".
Both Mursi and former prime minister Ahmad Shafiq are claiming victory in Egypt's first free election to find a successor to Hosni Mubarak.