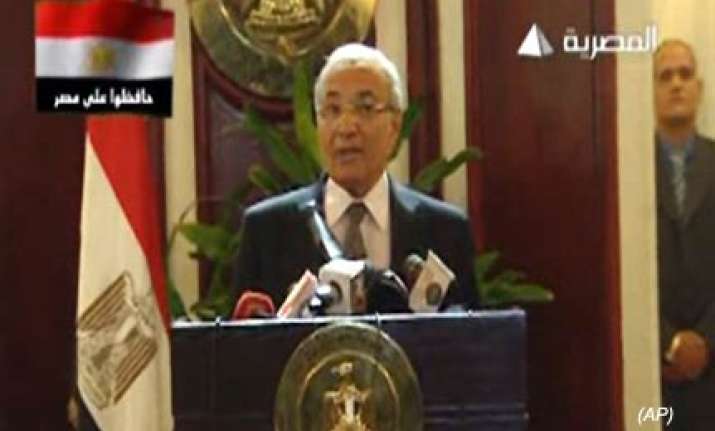 Cairo, Feb 3: Egypt's new Prime Minister Ahmed Shafiq today apologised for yesterday's violence and the besieged government offered more concessions to calm the popular uprising ahead of tomorrow's deadline set for the embattled President to quit.
Gangs of thugs supporting 82-year-old Mubarak attacked reporters, foreigners, and human rights workers and the army rounded up foreign journalists as violence escalated on the 10th day of wave of protests across the country.
The army also rolled out tanks and positioned soldiers to separate clashing pro-and anti-Hosni Mubarak demonstrators after yesterday's violence in which seven persons were dead and 700 injured.
Vice President Omar Suleiman promised that Mubarak's son Gamal will not seek to succeed his father in presidential elections in September while the state public prosecutor said officials, including the unpopular interior minister Habib al-Adly, have been banned from travel and their accounts frozen pending investigations.
In a reversal of the government's stance since anti-government demonstrations broke out on January 25, Shafiq also said he is ready to go to "Tahrir square to talk to the protesters."
A fresh bout of heavy gunfire and clashes erupted in the evening at Tahrir square in central Cairo—the epicentre of Egypt's anti-government protests while new looting and arson spread around the capital.
The protesters and the main opposition party Muslim Brotherhood have set a Friday deadline for what they called the "departure day" but the defiant President said yesterday he will not quit immediately.
"As officials and a state which must protect its sons, I thought it was necessary for me to apologise and to say that this matter will not be repeated," Shafiq told reporters, describing as "a disaster" yesterday's clash between rival groups.
Shafiq promised an investigation to find out "whether this was planned, was it spontaneous, did someone direct it, (or) did a certain party encourage it?" Anti-government protesters have alleged that yesterday's violence was instigated the government.
Security officials said a fire is raging in a major supermarket outside Sheikh Zayed, a suburb of the capital, and looters were ransacking the building. Another building much closer to the square and next to a five-star hotel tower overlooking the Nile River was also on fire, they said.
Shortly after automatic gunfire hit the anti-government protesters at the historic Tahrir Square killing seven people, including three on the spot, tanks and armoured cars ferried rifle-wielding soldiers to line up between the clashing groups. PTI