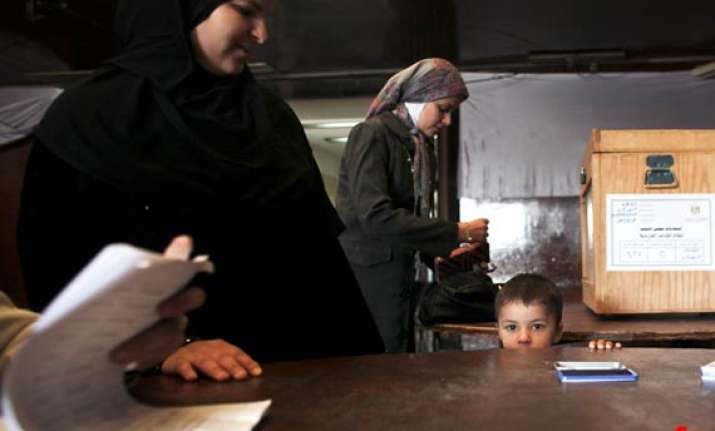 Cairo, Dec 14: After handing over a thumping victory to Islamists in the first round, Egyptians today headed for a second phase of parliamentary polls to decide the future of nine governorates, with the liberals hoping to make an impact this time.

About 18 million Egyptians head to polling booths today for the voting that would take place over two days and a run-off being held a week later.

Egypt's moderate Islamists—the Muslim Brotherhood— emerged as the largest force in the first round of elections with their Freedom and Justice Party winning 36 per cent of the popular vote.

But the surprise showing came from the radical Al Nour party that won almost 25 per cent of the vote.  The Egyptian liberal parties managed roughly 30 per cent of the vote together.

While the first round laid out a trend, the second round would decide how the future political landscape of Egypt would look like.

While the Brotherhood has tried hard to press itself as a moderate force that will not impose Islamic laws on Egypt, the radicals have made no bones of their hardline agenda. 

The developments have left Egypt's minority Christians and secular liberals worried over their future in the country. 

Some are hoping the second round of polls might tilt the balance towards the liberal Egyptian bloc. 

After a dismal showing in the first round, the Egypt bloc has coordinated with the "revolution continues", a coalition of Leftist and revolutionaries parties.

The coordination resulted in a unified list of independent candidates for all constituencies that poll today.

Several young activists associated with Egypt's January 25 Revolution will feature on the coalition's ticket, including Khaled Talima, Mohamed El-Kassas and Islam Lotfi.

The liberal electoral coalition includes the Egyptian Social Democratic Party, the liberal Free Egyptians party and the leftist Tagammu Party and will compete for 30 per cent of the seats reserved for independent candidates in the second stage.

The second round will cover nine of Egypt's 27 governorates, including Giza, Beni Sueif, Sohag, Aswan, Menoufiya, Sharqiya, Beheira, Ismailia and Suez. Run-off elections are slated for 21 and 22 December. 

The run up to the second round of elections has not been as quiet as the first round.

In Sinai, the nephew of a female candidates of the Egyptian bloc was allegedly kidnapped to pressure the nominee to step down, though she has not.

Violent incidents like opening of fire on rallies were also reported from some parts.  Security was beefed up once again with the new minister of interior vowed to tune preparations.