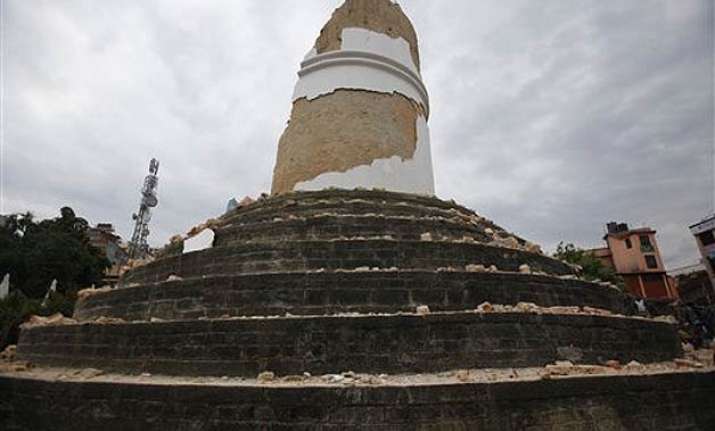 Kathmandu: Beyond colossal loss of human lives, if there is anything perhaps equally overwhelming in Nepal's earthquake tragedy, it is the monumental damage the country's iconic heritage has suffered due to the calamity.
The powerful temblor measuring 7.9 on the Richter scale on Saturday practically levelled the nation's tangible cultural history, robbing it of its architectural jewels, including the landmark Dharhara Tower, in an eerie reminder of the 1934 quake that claimed over 10,000 lives.
The 19th century nine-storey minaret, a UNESCO World Heritage site, which once offered a panoramic view of the Kathmandu Valley, turned into graveyards for over 200 people.
Over 2,000 people have been killed in the wake of the calamity while more than 5,000 are injured. Built in 1832 by the then Prime Minister of Nepal Bhimsen Thapa, the tower was also extensively damaged in the 8.3- magnitude earthquake of 1934, worst in Nepal's recorded history. It was later rebuilt and opened to the public, only to be reduced to a rubble this time.
The architecture of the tower was designed in Mughal and European style. A small statue of Lord Shiva was placed on the top of the tower.
The tower also suffered damages in the 1834 earthquake. The Kathmandu Valley inscribed in the World Heritage list in 1979 include the Durbar Squares of Hanuman Dhoka (Kathmandu), Patan and Bhaktapur, the Buddhist stupas of Swayambhu and Bauddhanath and the Hindu temples of Pashupati and Changu Narayan.
Tragedy came to revisit all the three Squares, as the sites had suffered extensive damage in the 1934 disaster too. The brick-and-wood architecture, symbolic of the Himalayan nation, now symbolise death and devastation.
The 1934 earthquake had also robbed Kathmandu of its historic Ghantaghar, as the iconic clocktower was reduced to a heap of debris. And, though the landmark was rebuilt with a new design, a page of history was lost forever.
Kathmandu's Basantapur Palace, built in European-style in 1908 as part of the ancient Royal Palace, has also been extensively damaged.
"The Durbar Squares and the Palace and the Dharhara Tower, they represented us, they represented Nepal and its culture and beauty, and it's all gone now. The loss of inheritance has made bearing the loss of human lives, even more difficult," Luxmee Maharjan, former journalist at the Kathmandu-based Himlayan Times said.
Many heritage lovers took to social media like Facebook and Twitter to share old, sepia-toned photographs, while some posted recent images, juxtaposing them with their appearance post the tragedy.