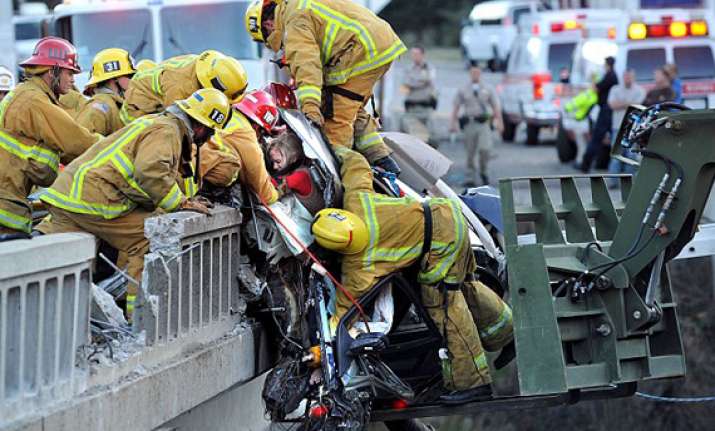 Los Angeles, Jan 14: A mother and her two daughters were rescued on Thursday from their BMW, which was teetering perilously on a 100-feet high California freeway bridge after a gravel truck rear-ended their car and plunged into a creek.

The truck hit the back of the BMW  as she was travelling north on Highway 101 in southern California, causing the BMW to strike the bridge railing. The truck fell and burst into flames, while its driver died, reports Daily Mail.

Kelli Lynne Groves, a 36-year-old mother of two, and her two young daughters, aged ten years and ten months, dangled over the bridge awaiting rescue.

The impact from the accident caused Groves' car to land on the centre of the concrete guard rail, KVEC Radio reports.


The big-rig truck, meanwhile, ploughed through the guardrail, falling into Nojoqui Creek and immediately bursting into flames.

The 48-year-old truck driver  died at the scene.

The terrified family waited for an hour for rescue crews to extricate them from the wreckage, and received help in the meantime from a group of Navy Seabees who were stuck in southbound traffic.

The Seabees used a forklift they were transporting to stop the BMW from going over the bridge, KTLA reports.


Photos capture ten-year-old Sage Groves looking terrified as rescue workers fight to bring her to safety, and her mother, wearing a red top, crying as firefighters help pull her from the wreck.

The accident  occurred along U.S. Route 101 in rural Buellton, about 25 miles north of Santa Barbara.


The San Juan Capistrano family was taken to nearby Cottage Hospital with moderate injuries, 920kvec.com reports.