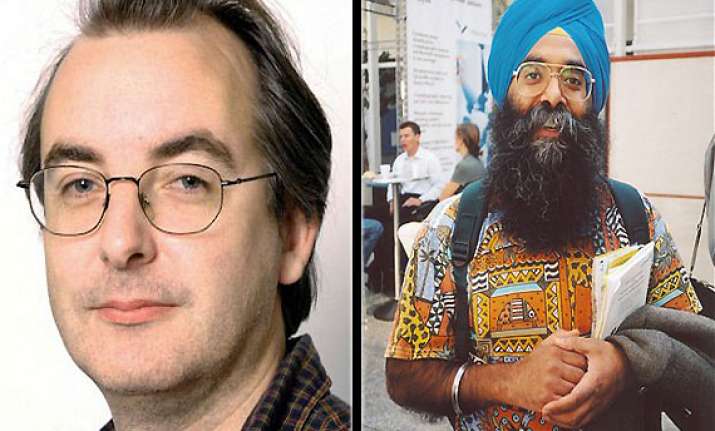 London, Jan 14: Insisting that Indian-origin Mathematics lecturer Devinder Sivia and noted astrophysicist Stephen Rawlings were the best of friends for decades, the widow and sister of the late Oxford professor do not want Sivia's reputation to be "tarnished".

Her remarks came at a time when the 915-year-old University of Oxford remains in a state of shock over Rawlings' death and the arrest of Sivia. 

Sivia, 49, was arrested and taken away in handcuffs from his house in Southmoor, Oxfordshire, after Rawlings' body was found on Wednesday night.

He has since been released on police bail until 18 April, without any charge.

Rawlings, 50, was described as an "intense" person who suffered from stress and was found last year wandering around in the Oxfordshire village in the middle of the night in a dressing gown.

Investigation into Rawlings' death may have shifted from a murder investigation, as indicated by Detective Superintendent Rob Mason, who said the death "may be a matter for a coroner's inquest rather than a criminal court".

Linda Rawlings, the late professor's devastated wife, urged people not to blame Sivia for the death. 

She said: "Steve and Devinder were best friends since college, and I believe this is a tragic accident.  Steve is a man of integrity, kindness and a very accessible person...I do not believe that Steve's death is murder and I do not believe Devinder should be tarnished in this way".

Rawlings's sister, Linda Davey, added that Sivia and Rawlings had been friends for 30 years.  She said: "We can't think that there was any kind of fight. We can only assume that it was a terrible accident.  Steven was big but he was gentle".

Despite initial reports that Rawlings died of a heart attack, a Thames Valley Police spokesman said that a post mortem had proved "totally inconclusive" and that further tests were being carried out.

Gurbaksha Sivia, father of Devinder Sivia, told the media that Rawlings and his son were "like brothers". 

He said: "It is a shock, it is a tragedy. It is hard to believe and hard to understand what happened".  Explaining that his son had told him he hoped the matter would be sorted out, he added: "He is shocked himself. He was his best friend. He said nothing of a fight or a falling out.  I can't believe they would have fallen out. They have been friends since they were students at Cambridge University. I think for more than 20 years".

Based in Kent, Gurbaksh Sivia, 80, said: "They were very, very good friends, inseparable friends. They were like brothers. My son is a good son and a dedicated teacher. He has very simple habits - he never drinks, he never smokes. It's unimaginable".

He said that Devinder had called him up on Wednesday after being arrested, and reportedly said: "'Dad, there's been a tragedy and I'm in police custody under suspicion.It's being investigated but I'm hoping it will be sorted out'". 

Rawlings and Sivia co-authored the book Foundations of Science Mathematics in 1999 and both taught at Oxford for several years.

The Vice-Chancellor of Oxford University, Professor Andrew Hamilton, said: "The entire University community has been profoundly saddened and shocked by the tragic and untimely death of Professor Steve Rawlings. Our thoughts are with his family and friends".

Local resident Duncan Logan, who lives opposite the house of Sivia, said he had known both academics for several years and described them as "the best of friends". 

He said: "I can't believe what I'm hearing it's like a bolt from the blue. They were the best of friends.  "They were nice, gentle, well-spoken, polite and hard working people. I am proud to have had both of them as friends. I never heard them row".

He added: "They seemed to respect each other enormously, and talked very highly of each other. I got a text about it today and at first I thought it was Devinder who was dead.  "I can't imagine Devinder hurting anyone. I've never even heard him raise his voice. He such a gentle person".