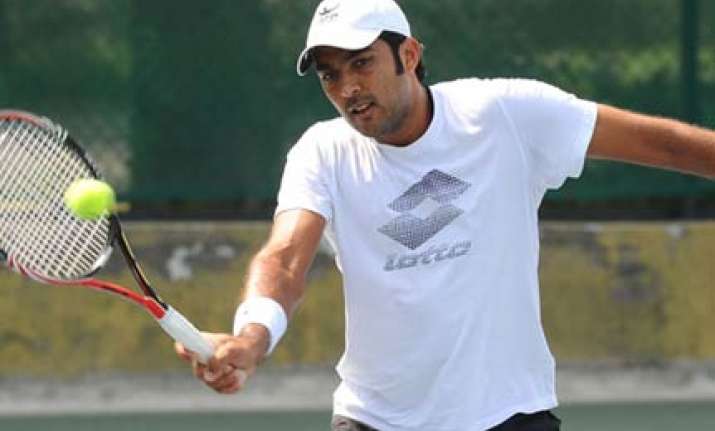 New Delhi, Oct 7 :  Isolation of Pakistan in world sports hurts Aisam-ul-Haq Qureshi as much as the perception world over that his is a country of terrorists.
He urged the Americans to shed that perception in an emotional address in New York following his historic performance at the US Open, where he reached the doubles finals with Rohan Bopanna, and now want the sportspersons all over the world to embrace his country. Ever since the Sri Lankan cricket team was attacked in Lahore, countries have stopped sending their sporting squads for any competition.
Pakistan is forced to play their cricket and Davis Cup ties either away or on neutral venues. After Qureshi's breakthrough performance in New York, the game has got a fillip in his country. Even the International Tennis Federation is giving a thought to let Pakistan host a Davis Cup tie.
Qureshi is keen to see the day when Pakistan's isolation would end and urged the athletes to help and support country's sporting activity.
"What happened (in Lahore) was unfortunate but sooner or later the perception has to change. Someone has to come forward and take the first step. I hope Hong Kong will be the first country to do that. I assure that people will get good hospitality," Qureshi, who is here to compete in CWG tennis event, told PTI.
"ITF is sending a team to take stock of security measures. We will be playing in March 2011. ITF had not thought of sending a team for inspection  before (my US Open performance)," he said. Qureshi said authorities in his country were trying their best to convince various world sports bodies about safety and security of sportspersons in Pakistan.
"It will depend on them. I am sure they will be impressed with arrangements," he said. Asked whether people will be convinced after what all happened, he said,"People will have to understand that culture, religion and politics cannot be mixed with sport. That's message. Sport is beyond that." He also said that his proposed match against Bopanna at the Wagah border would materials soon.
"Things are being worked out. We have spoken to authorities and some e-mails have been exchanged," he said.
Qureshi was realistic when he talked about medal hopes in Commonwealth Games. Pakistan has a poor record in the event as last time they won only five medals and overall have just won 60 medals even since the inception of the Games. "It's a tough task.
"With Rohan it could have been different. Aqeel and I have been playing the Davis Cup for the last 12 years. We tried to use that experience but it was tough draw. Aqeel himself was playing his first international match after three months," Aisam said after losing both singles and doubles matches.
Asked if pressure factor played on his mind after historic US Open show, he said that instead of pressure to perform, he feels its a kind of motivation.
"I am not taking any pressure on myself. I take it as motivation. It's encouraging when people look up to you. Tennis has got recognition in Pakistan and it feels good if you are looked at as a role model," he said. The tall Pakistani said he and Bopanna are looking forward to end the season on a high.
"Doubles is priority. We have to play in the year end Masters Meet in London. We are World No 6. And we will be able to continue playing like this we will be there. But I still feel that I have three years of singles left in me," he concluded. PTI