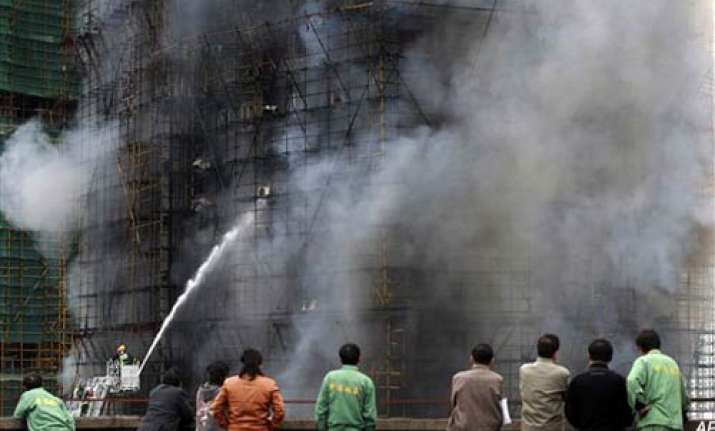 Beijing, Nov 16   :  At least 53 people have been killed and scores injured in a massive fire that engulfed a high-rise apartment building in China's commercial hub Shanghai, officials said today.
The death toll this morning rose to 53, local authorities said, adding more than 70 people injured in the inferno are being hospitalised.
The 28-story building in a densely-populated area in Jing'an District in Shanghai was being renovated when it caught fire in the afternoon Yesterday.
The fire was mostly extinguished by evening after local authorities dispatched 25 fire units and more than 100 fire engines to the scene. Helicopters were sent to rescue people trapped on the roof, Xinhua news agency reported.
The cause of the fire remained unknown, but Xinhua quoted a witness as saying that the fire began when building materials caught alight.
It quoted local residents as saying that the building, built in the 1990s, housed mainly teachers from several schools in Jing'an District, many of whom were retired.
Meanwhile, an investigation team was today set up under the State Council or China's Cabinet to probe the cause of the fatal fire.
Chinese Public Security Minister Meng Jianzhu arrived at the site this morning to guide rescue and relief work.
Meng said anyone responsible for the blaze would be punished in accordance with laws.
He said information related to the fire, including casualties, searching results, treatment of the injured and property losses, should be made public timely and accurately.
Residents of the building and three neighboring apartment blocks had gathered in nearby shelters -- a school, a stadium and other public facilities, waiting for temporary accommodation arrangements from the rescue headquarters.Evacuees are offered free food, water and medical services in the shelters.  PTI