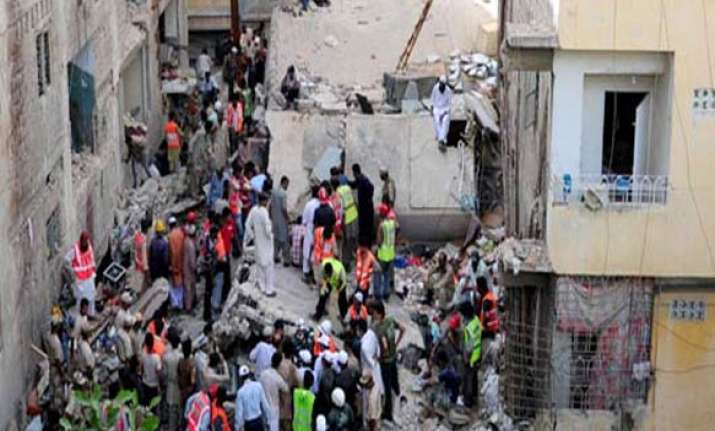 Karachi, Aug 7: The death toll in the Lyari building collapse rose to 29 on Sunday as rescuers recovered five more bodies from the rubble, Geo News reported.

Rescue teams of Pak Army and a foreign NGO were busy in removing the debris of the building on the fourth consecutive day Sunday.

An engineer of the rescue team has said it will take some more time to finish the operation.


Officials said the removal of the rubble could still take time as rescuers were taking extra care while executing the job to prevent mutilation inside though the hopes for any survivor were fading.

Masood Alam, the chief of the local government's municipal services, which include units of rescue operations said: "Since the early hours of the day till late Saturday, we retrieved nine more bodies, mostly of women. However, they all are mutilated beyond recognition."


The five-storey Qasr-i-Ruqayya in Musa Lane on Shah Abdul Latif Bhitai Road collapsed on Thursday leaving several people trapped under the rubble and over 20 injured.

The rescuers after three-day efforts retrieved 29 bodies but the operation continues as the officials believe that any haste could affect human lives, if any, or at least the bodies.

"It's a matter of humans and we can't move fast or follow any speedy process. As per our assessment, there are eight to nine more alive or dead persons under the rubble and we need to take care even if there are only dead," said deputy commissioner (south) Mustafa Jamal Kazi.

Sindh chief minister Syed Qaim Ali Shah, meanwhile, announced compensation for the legal heirs of those killed or injured in the tragedy.

According to official sources, the heirs of bread-earners would be paid Rs300,000 each, non-bread-earners' heirs would get Rs200,000 each and the injured would be paid Rs50,000 each.

MQM chief Altaf Hussain, however, demanded accommodations for the affected families.

"He said that each family should be given a flat or house of three rooms. He said it's the moral duty of the government to come forward to help the poor families", an MQM statement said.