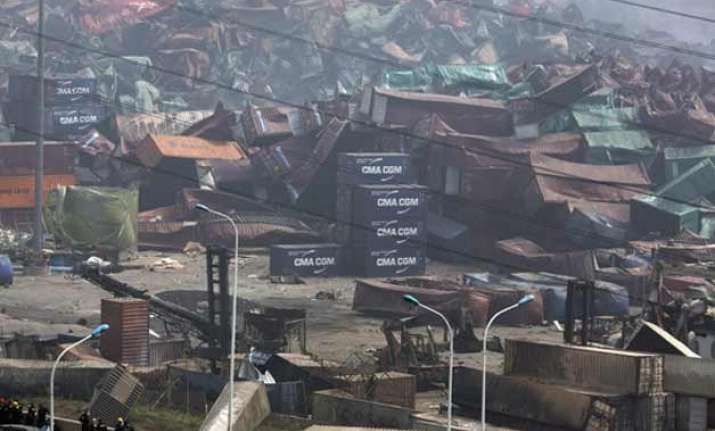 Tianjin: Chinese state media today said that the death toll from massive blasts in the Chinese port of Tianjin has risen to 104.
The toll included at least 21 firefighters among the more than 1,000 sent to the disaster, local officials told a news conference Saturday.
The new toll Saturday came rescuers scour the warehouse district devastated by a fire and series of explosions late Wednesday at a warehouse for hazardous chemicals.
Rescuers also found an additional survivor Saturday as authorities evacuated much of the area to clean up dangerous chemical contamination. Several additional small explosions rocked the disaster zone as the clean-up continued.
The Chinese authorities have ordered the evacuation of residents within a 3km radius of the Tianjin blast site over fears of chemical contamination.
The evacuations came after an apparent change in wind direction, and as police confirmed the highly toxic chemical sodium cyanide was found near the site.
A rapid succession of explosions late Wednesday — one equal to 21 tons of TNT — were sparked by a fire at what authorities said were shipping containers containing hazardous material at a warehouse, and they struck a mostly industrial zone late at night — otherwise the death toll could have been much higher. But the warehouse was close enough to residences to appear out of compliance with safety regulations, raising questions about whether the facility had properly been authorized.
Firefighters initially responded to a fire at the warehouse and many of them apparently were killed by a series of explosions triggered 40 minutes after the fire was reported.
The disaster is the deadliest for Chinese firefighters in more than six decades. Several remain missing.
must be at least 1,000 meters (3,300 feet) away from public buildings, highways, railways and industrial enterprises under regulations enacted by China's State Administration of Work Safety in 2001.
But Google Earth shows that Ruihai's two hazmat warehouses are less than 500 meters from the S11 Haibin Expressway, and within 500 meters (yards) of a 104,438-square meter (1.1 million-square foot) apartment complex built by China Vanke Co., one of China's largest developers.
Vanke said it acquired the land before Ruihai Logistics began loading toxic substances in its warehouses one block away. "The land was near normal logistics warehouses when we acquired it in April 2010," the company said in an emailed statement. "We were not aware they were later transformed into warehouses for hazardous material."
The housing development's windows were shattered and the side facing the explosions singed. The entire complex was evacuated and falls within a 1- to 2-kilometer zone around the blast site that has been cordoned off by police.
Local officials have publicly reassured a skeptical public that the blasts have not contaminated the air, but many residents weren't taking chances and could be seen Friday wearing air-filtering masks. "I don't usually wear a mask but I don't quite trust what the government says," Ma Wiehan said from behind her mask as she walked with her 6-month-old daughter. "I'm doing this for my child."
Questions about whether firefighters may have sparked the blasts have been circulating in the Chinese media. One report suggested that water used by first responders may have come into contact with a chemical that explodes on contact with water, but an official also is quoted as saying the first wave of firefighters could not have sparked the blasts.
Many of the fire trucks seen at the site hours after the blasts use a kind of firefighting foam.
Authorities have not said what caused the explosions, saying only that they originated at the warehouse owned by Ruihai International Logistics. Its website says the company is authorized to handle chemicals ranging from flammable gases and liquids, including compressed natural gas and ethyl acetate, to chemicals that explode on contact with water, including sodium cyanide and calcium carbide.
(With inputs from AP)