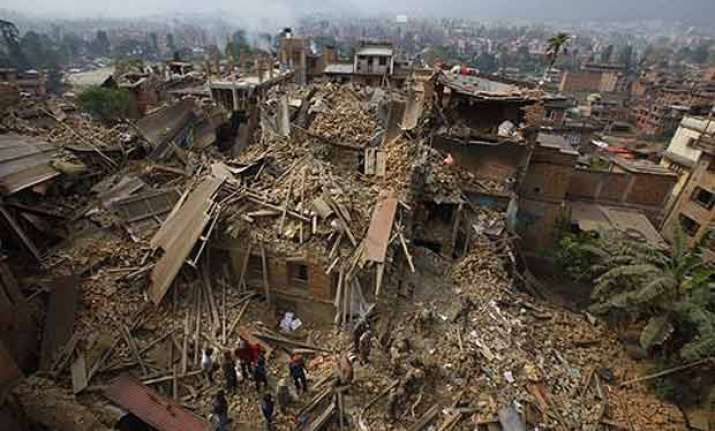 Kathmandu: Rescuers today dug with bare hands and heavy equipment through tonnes of rubble for survivors as toll from the devastating temblor crossed the 2,000-mark in Nepal's worst quake in over 80 years, with fresh aftershocks triggering panic and hampering relief efforts.
A strong 6.7-magnitude aftershock sent people running for open spaces as they struggled with the devastation caused by yesterday's massive 7.9-magnitude temblor that displaced and injured thousands besides causing a deadly avalanche on the Mount Everest claiming 17 lives.
"The latest figure says more than 2,000 people have died and several thousands have been wounded and more counts are coming," said Narayan Khatkar, Nepal's Urban Development Minister.
A police official told media here that 2,123 people were killed.Over 5,000 people were also injured in the earthquake and the dozen aftershocks that continued till today, with the strongest measuring 6.7 on the Richter Scale.
Climbers on Mount Everest said they saw fresh series of avalanches and a big landslide in the base camp.International teams, including from India, have touched down quake-hit Nepal that has declared a state of emergency in the wake of the disaster caused, the worst in over 80 years of Nepal's recorded history.
Rescuers have been hunting for survivors under heaps of debris with bare hands as well as heavy equipment though the efforts have been hampered due to fresh tremors and thunderstorms.
Locals and tourists sifted through mounds of debris for survivors. Cheers rose when people were found alive, thought
mostly bodies were pulled out. The earthquake and the aftershocks left behind a trail of death and destruction, flattening houses and buildings,including the iconic Dharhara tower and the landmark DarbarSquare in the heart of the capital, trapping scores of people.
Thousands of people spent last night in the open in chilly weather, anticipating more aftershocks.1,053 people are reported killed in the Kathmandu Valley alone. Officials fear the death toll could rise as desperate search for survivors continued.
According to initial reports related to today's aftershock, a tunnel caved in at the Trishuli Hydel Project and around 60 labourers are feared trapped.
MI-17 helicopters of the Indian Air Force (IAF) have carried out five casualty evacuation sorties and the injured have been moved to military hospitals.
As many as 17 Mount Everest climbers, including foreigners, were reportedly killed in an avalanche triggered by the earthquake. The latest aftershock hit at a shallow depth of 10 kilometres at 12:39 IST, according to the US Geological Survey.
The aftershock was registered 17 kilometres south of Kodari - 114 kilometres north of here - near the Tibet
Autonomous Region of China.
The tremors - that were felt also in India including its national capital - sent people running for open spaces.According to reports, the route to the base camp has been destroyed and the IAF choppers were trying to rescue the survivors, around 100 in number including foreigners who were said to be safe.
A climber Jim Davidson said he felt the aftershock at Camp One on Mount Everest."Just had our biggest aftershock yet here at C1 on Everest. Smaller than original quake but glacier shook & avalanches," he tweeted.
An Indian attempting to climb all the highest peaks in the seven continents, 54-year-old Ankur Bahl is also stuck at
Camp II on Mount Everest along with 11 other fellow climbers.
Bahl had moved to Camp II from Camp I yesterday but is now stranded due to the earthquake, his friends in New Delhi
said. Two Indians, including the daughter of an Indian embassy employee, were among those killed in the powerful earthquake, an Indian embassy official said.
A house in the Indian Embassy complex collapsed, killing the daughter of a CPWD employee. Death of another Indian was
reported at Bir Hospital here.
Over 550 Indians have been evacuated by the IAF from earthquake-hit Nepal even as India stepped up its relief and
rescue mission with 10 flights and 12 helicopters scheduled to carry specialists and equipment to Kathmandu today.
The Tribhuvan International Airport, that was closed down yesterday following the quake, was opened briefly, only to be
shut down again due to fresh tremors.
IndiGo, SpiceJet flights could not land here and were forced to return as Air Traffic Control personnel at the
airport were evacuated following fresh aftershocks.
Many hospitals in Nepal are struggling to cope with the large number of injured.Nepal Prime Minister Sushil Koirala, who was on a visitto Indonesia, had to cut short his trip in the wake of the disaster.
The Nepalese government has declared a national crisis and established a fund of Rs 500 million for the reconstruction of the damaged infrastructure.
Many areas in the country have no electricity for the past 24 hours and authorities say the situation is likely to continue for the next few days.
Offers of help poured in from around the world, with the US, the European Union as well the United States saying they were sending in disaster response teams.
"The United Nations is supporting the Government of Nepal in coordinating international search and rescue operations and is preparing to mount a major relief effort," UN Secretary-General Ban said in a statement today.