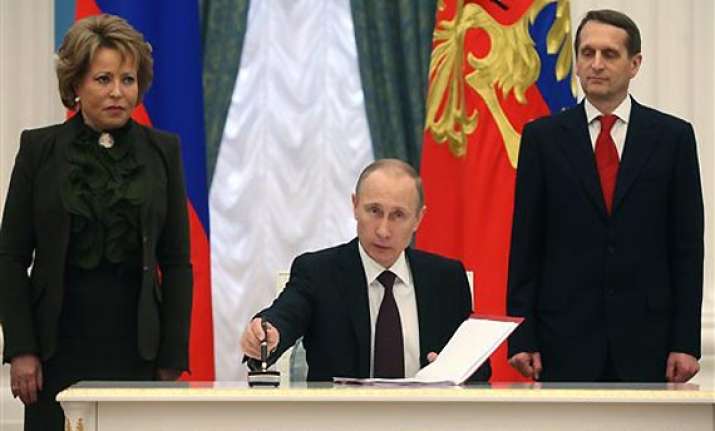 Brussels: Two almost simultaneous signatures on Friday on opposite sides of Europe deepened the divide between East and West, as Russia formally annexed Crimea and the European Union pulled Ukraine closer into its orbit.
In this "new post-Cold War order," as the Ukrainian prime minister called it, besieged Ukrainian troops on the Crimean Peninsula faced a critical choice: leave, join the Russian military or demobilize. Ukraine was working on evacuating its outnumbered troops in Crimea, but some said they were still awaiting orders.
With fears running high of clashes between the two sides or a grab by Moscow for more of Ukraine, the chief of the U.N. came to the capital city Kiev and urged calm all around.
All eyes were on Russian President Vladimir Putin, as they have been ever since pro-Western protests drove out Ukraine's president a month ago, angering Russia and plunging Europe into its worst crisis in a generation.
Putin sounded a conciliatory note on Friday, almost joking about U.S. and EU sanctions squeezing his inner circle and saying he saw no reason to retaliate. But his government later warned of further action.
Russia's troubled economic outlook may drive its decisions as much as any outside military threat. Stocks sank further, and a possible downgrade of Russia's credit rating loomed. Visa and MasterCard stopped serving two Russian banks, and Russia conceded it may scrap plans to tap international markets for money this year.
Despite those clouds, Putin painted on Friday's events in victorious colors, and fireworks burst over Moscow and Crimea on his orders, in a spectacle reminiscent of the celebrations held when Soviet troops drove the Nazis from occupied cities in World War II.