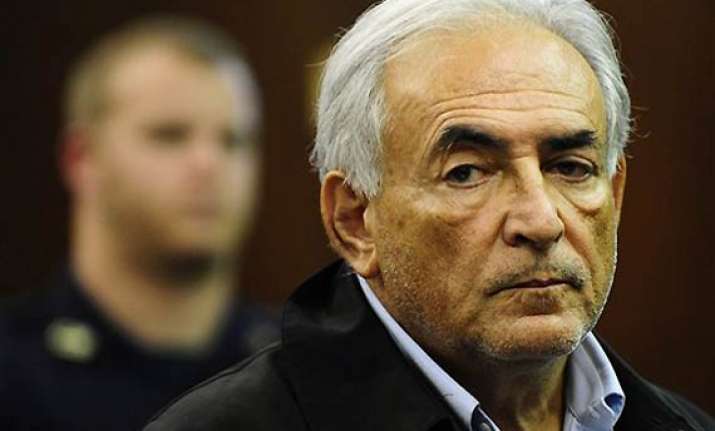 New York, May 17: On Tuesday prosecutors revealed graphic details of Strauss-Kahn's alleged brutal sex attack on the maid at a bail hearing in front of a female judge at Manhattan's criminal court, reports Daily Mail.

Police also reportedly found blood found on bed sheets in the hotel suite where the assault allegedly took place and DNA samples on carpet and fabric that they removed for testing. A rape kit is also said to have found DNA on the victim after she reported the attack.

Looking haggard and wearing the previous day's clothes Strauss-Kahn, 62, who should have been meeting with European finance ministers in Brussels, stood at the bench next to his lawyer Benjamin Brafman as prosecutors outlined the severity of the charges against him.

These include two counts of a first degree criminal sexual act, two counts of sexual abuse, attempted rape, unlawful imprisonment and forcible touching. He faces up to 25 years in prison if convicted.

A one-page indictment provided further lurid claims, accusing Strauss-Kahn of forcing the maid to take part in both oral and anal sex.

The court papers claim he forcibly touched the woman's breasts, twice 'forcibly made contact with his penis and the informant's mouth' and 'engaged in oral sexual conduct and anal sexual conduct with another person by forcible compulsion'.

It took 20 minutes for Judge Melissa Jackson to refuse Strauss-Khan's bail offer of $1million at the hearing this morning.

He had also offered for all his travel documents to be confiscated in the potential deal, his lawyer Brafman said.

Judge Jackson said she was a 'fair judge' but added: 'When I hear your client was at JFK airport about to board a flight that raises concern,' with reference to the Air France flight.

Assistant District Attorney John A McConnell had earlier called Strauss-Khan an 'incurable flight risk' and voiced the DA's concerns that if he managed to flee to France the U.S. would not be able to extradite him.

He called the charges severe and said 'the victim provided a very powerful and detailed account' of the alleged attack and had had a full sexual assault examination in hospital.

The maid, a Guinean immigrant, told authorities that when she entered Strauss-Kahn's suite to clean it on Saturday afternoon, he emerged naked from the bathroom and chased her down a hallway before pulling her back inside.

The maid claims she then briefly fought him off before he dragged her into the bathroom and forced her to perform oral sex on him.

The woman said she was able to break free again as he tried to remove her underwear and ran downstairs to tell hotel staff what had happened.