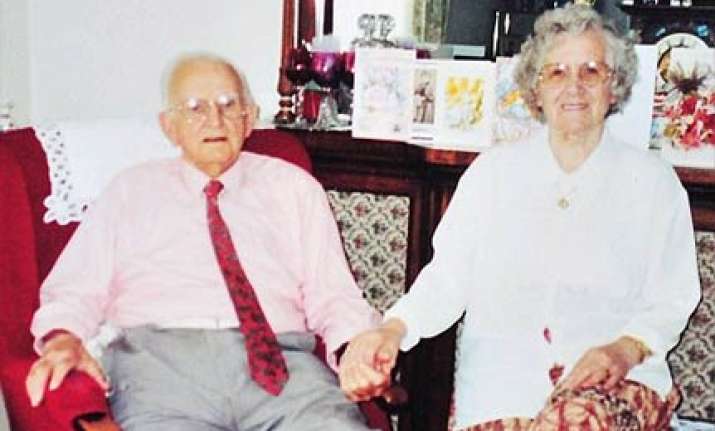 They fell in love as teenagers and had been inseparable during nearly 70 years of happily married life.
And despite being taken to different hospitals as their days drew to a close, the bonds of devotion between Ted and Mary Williams were to bring them together for one last, poignant goodbye.
Mrs Williams, 87, who was suffering from Alzheimer's, wrote a final love letter from her hospital bed to the man she had wed in 1941, reports The Daily Mail.
'Ted, I'd love to see you,' she said. 'Why haven't you come to see me, my darling?'
The letter touched nursing staff so much they devised a plan to bring 90-year-old Mr Williams from the Frenchay Hospital in Bristol, where he was being treated for a heart condition, to Southmead Hospital in the city where his wife was being cared for.
And they were just in time. Mr Williams was put in the next bed to his wife, who was also suffering from pneumonia, and they held hands as she passed away just three hours later.
Three days afterwards, Mr Williams, a former engineer, died of heart failure.
Yesterday their son Tony, 67, thanked the hospitals involved and paid tribute to his parents, whose joint funeral will be held today.
The printer from Keynsham, Bristol, said: 'I'm so grateful to the NHS staff for having the compassion and thoughtfulness to transfer my dad to be with my mum, without us even asking for it.
'They knew that mum would die and dad got to hold her hand for the last few hours of her life. Then dad said, "My time has come, and I want to be with your mum". And in two and a half days he was gone.
'My mum passed away happy, knowing that her beloved husband was with her and holding her hand, and then my dad was able to pass on, feeling his life was complete.'
The couple, who had two grandchildren and four great-grandchildren, met when she was only 13 and her future husband was 15.
Even then, the young Mary knew she had found the man she would spend the rest of her life with, and she went on to convert to his religion - Roman Catholicism - so they could marry in 1941.
They later moved into the home they would share for more than 60 years in Southmead.
A year ago Mrs Williams, a former shopworker, began to suffer from Alzheimer's, and her husband refused to have a carer, choosing to support her himself.
When Mrs Williams became ill with pneumonia at the end of February she was admitted to Southmead Hospital, where her husband visited her every day until he too was admitted to hospital.
However, their separation was short-lived as the hospitals moved to bring them together again.
Their son said yesterday: 'It gave them the perfect end to their lifelong love story.'