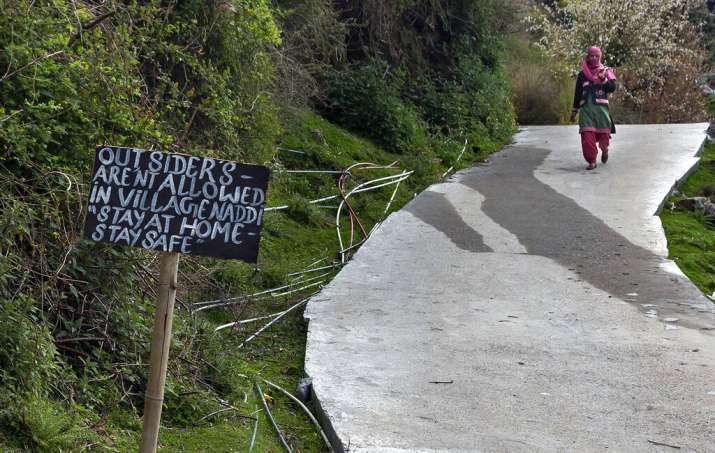 Coronavirus Crisis Updates: April 2, 2020
3 more persons have tested positive for COVID19 in Uttarakhand, taking the total number of cases to 10. There are 245 Tablighi Jamaat (Delhi) attendees in institutional quarantine in the state: State Health Department.
5 more persons have tested positive for COVID19 in Bihar taking total number of cases to 29. 2 are from Gopalganj with travel history to Middle East and 1 from Saran with travel history to UK. 2 are from Gaya and are contacts of earlier positive cases: State Health Department.
16 Haj houses across the country turned into quarantine centres for Cororonavirus cases: Union Minister for Minority Affairs Mukhtar Abbas Naqvi.
141 fresh COVID19 positive cases in last 24 hours, including 129 positive cases from Markaz Nizamuddin; Total 4 deaths including 2 from Markaz Nizamuddin: Delhi Government.
Increase of 235 COVID19 cases in the last  24 hours. Total number of COVID19 positive cases rise to 2069 in India (including 1860 active cases, 155 cured/discharged/migrated people and 53 deaths): Ministry of Health and Family Welfare
Total COVID19 positive cases in Delhi rises to 293 including 182 positive cases from Markaz Nizamuddin: Government of Delhi.
A resident doctor of AIIMS who was tested positive for COVID19 earlier today, his 9 months pregnant wife (a doctor posted at Emergency) has also been tested positive. She has been isolated and her delivery will take place at AIIMS.
The home ministry has blacklisted 960 foreigners, linked to Delhi's Tablighi Jamaat event, and has suspended their Indian visas.
A 59-year-old woman and her 10-month-old granddaughter have tested positive for #COVID19 in Chandigarh. They are primary family contacts of NRI couple (Positive for COVID-19). Total cases in the Union Territory is 18, so far: Chandigarh Health Department.
A pregnant woman from Kollam district is also among the 21 new COVID19 positive cases in Kerala: Chief Minister Pinarayi Vijayan.
21 more persons have tested positive for #Coronavirus in Kerala. Total cases in the state are 286 of which 256 are active cases: Chief Minister Pinarayi Vijayan
Out of 2346 people brought from Markaz Nizamuddin,1810 persons quarantined & 536 people admitted to city hospitals; Tests of all 2346 persons are being done. Due to this it is possible that the no. of COVID19 cases in the city might rise in coming days: Delhi CM
Rs 5000 each will be transferred into the accounts of auto, taxi, e-rickshaw, RTV & Gramin Sewa drivers and all those plying public service vehicles. This might take between a week and 10 days to implement: Delhi CM Arvind Kejriwal.
Maharashtra Government has declared 30 government hospitals of the state as COVID19 hospitals. A total of 2305 beds are available in these 30 COVID-19 hospitals: State Health Ministry.
Around 50 members of medical staff (including doctors, nurses and paramedics) across the country have tested positive for Coronavirus: Health Ministry official.
Out of about 2,000 Tablighi Jamaat members in Delhi, 1,804 have been quarantined, 334 admitted to hospitals: MHA official.
About 9,000 Tablighi Jamaat members and their contacts quarantined till now across country: MHA official.
Two of the five coronavirus patients undergoing treatment in Goa tested negative for the infection on Thursday, indicating that they were on the path of recovery, the state government said.
Eleven more people have tested positive for COVID-19 taking the total number of cases to 131 in Rajasthan including two Italian & 14 attendees of Tablighi Jamaat in Delhi: State Health department.
COVID19 cases rise to 33 in Haryana, with active cases standing at 20: State Health Department.
"Possibly infected, confirmed & serious cases will be kept in separate wards. A facility has been set up in the hospital for the doctors & nurses treating the patients. They will not go to their homes for 14 days," says Dr Bishnu, CEO of COVID-19 Hospital, KIMS in Bhubaneswar.
A resident doctor of the Physiology Department of All India Institute Of Medical Science (AIIMS), Delhi has tested positive for COVID-19. He is admitted to the new private ward for further evaluation and multiple testing. His family will also be screened.
Forty eight suspected COVID-19 samples sent by the Goa Health Department to the National Institute of Virology in Pune earlier this week have rested negative, Health Minister Vishwajit Rane confirmed. 
We meet today in midst of an unprecedented health and humanitarian crisis. The magnitude of the challenge before us is daunting but our resolve to overcome it must be greater: Congress Interim President Sonia Gandhi at Congress Working Committee meeting (via video conferencing)
Increase of 131 COVID-19 cases in the last 12 hours. Total number of COVID-19 positive cases rise to 1965 in India (including 1764 active cases, 151 cured/discharged/migrated people and 50 deaths)
Mayor of Los Angeles has told the citizens of LA to start wearing masks to combat the coronavirus.
A 23-year-old migrant labourer who escaped from a quarantine centre to meet his family in Lakhimpur, allegedly committed suicide after learning that police were searching for him.
Australian Prime Minister Scott Morrison has said that his country is slowing the spread of the COVID-19 disease and saving lives.
3 more coronavirus cases reported in Maharashtra (2 from Pune & 1 from Buldhana) taking the total number of positive cases in the state to 338
A 52-year-old COVID19 patient lost his life today morning. He had a history of travel to Sri Lanka and was admitted to SSG Hospital, Vadodara on 19 March. 4 members of his family have also tested positive for the virus&are undergoing treatment
The global COVID-19 death toll is nearing 50,000 mark as the number of cases stand at the brink of breaching the one million mark.
Also Read | COVID-19 cases could breach 1 million mark today; deaths near 50,000