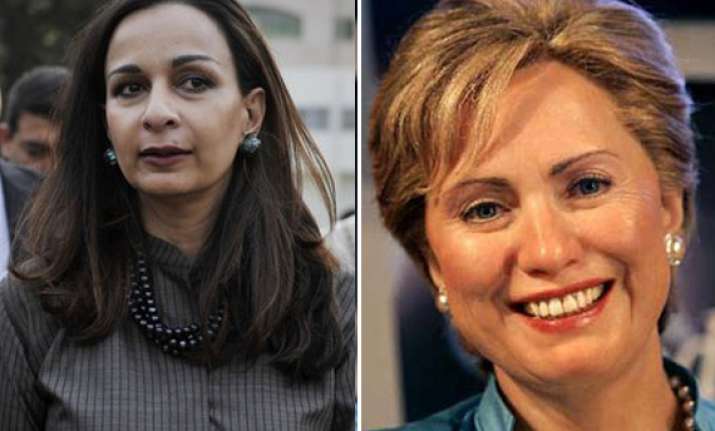 Washington, January 12: Secretary of State Hillary Clinton has welcomed Pakistan's ambassador designate to the U.S. Sherry Rehman as they held their first meeting and discussed various bilateral issues.

"The Secretary (of State) was pleased to welcome Pakistan's appointed Ambassador, Sherry Rehman, to Washington.

They discussed the importance of our two countries recommitting to working together on areas of common interest," State Department spokesperson Laura Lucas told PTI.

"The Department looks forward to further interactions with the appointed ambassador after she presents her credentials at the White House," Lucas said after the Clinton-Rahman meeting at the Foggy Bottom headquarters of the State Department.

Ms. Rehman, whose appointment comes at a time when Pakistan-U.S. relations are at an all-time low, is expected to present her credential to U.S. President Barack Obama on January 18.

On Tuesday, Rehman met the Special US Representative for Pakistan and Afghanistan Marc Grossman.

She also presented her ambassadorial credentials to the State Department's Under Secretary for Political Affairs Wendy Sherman.

A confidant of President Asif Ali Zardari, she replaces Husain Haqqani, who had to resign following the revelation of the "memo gate" scandal.

This will be the first time that the two top diplomats from India and Pakistan to the U.S. are women. Nirupama Rao is the Indian Ambassador to the U.S.

Earlier in the day, State Department spokesperson Victoria Nuland told reporters that the issue of Haqqani might come up during the meeting.

"I would guess that she (Clinton) probably will make some of the same points that you've heard us make here, that we expect him to be treated in a manner that is consistent with the Pakistani constitution, with international standards of jurisprudence. She may also make clear we expect him to be safe and secure during this process," Mr. Nuland said.