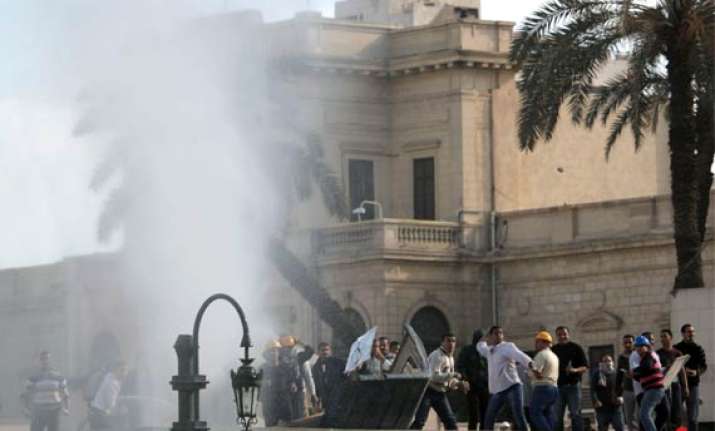 Cairo, Dec 19: Egyptian soldiers and protesters clashed for the fourth straight day in the iconic Tahrir Square here killing three more people and taking the four-day toll to 14 even as US Secretary of State Hilary Clinton appealed to the military to allow peaceful expression and assembly.

The clashes are said to have continued all through the night with at least three more deaths, according to the protesters.

News propagated on the social networking sites have been speaking about snipers on roof tops targeting the protesters in the square.

The protesters also tweeted that the army is using water mixed with gasoline to disperse the people in the square. 

The clashes have been raging since Friday in and around Tahrir Square, which served as the epicenter of the popular uprising that toppled longtime leader Hosni Mubarak in February.

The fresh violence started a day after the second phase of polls closed when soldiers stormed an anti-military protest outside the Cabinet building, a short distance from Tahrir on Friday.

The protesters are demanding that the ruling military council step down and hand power to a civilian government. 

However the Egyptian military have undertaken an unprecedented heavy handed crackdown. 

Meanwhile, Clinton has called on Egyptians to stop the violence and has the authorities to grant the people the right to peaceful demonstrations.

"I urge Egyptian security forces to respect and protect the universal rights of all Egyptians, including the rights to peaceful free expression and assembly," a "deeply concerned" Clinton said in a statement yesterday. 

A similar call was made by the UN Secretary-general Ban Ki Moon.