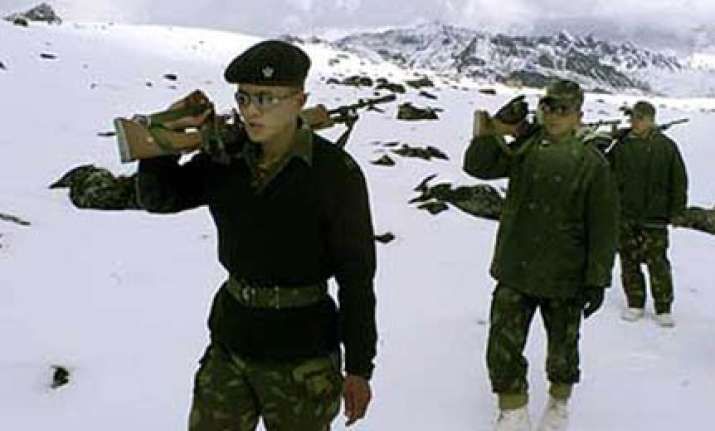 BEIJING: China said Monday it had not received word from New Delhi that it had suspended military exchanges, despite Indian media reports that relations had been put on hold after Beijing refused to grant a visa to a top Indian army general from a disputed territory.
 An anonymous senior Indian official was quoted in the Hindu newspaper Saturday as saying that future military exchanges and a joint exercise between Indian and Chinese defense forces would remain suspended until China resolves the issue.
"China did not suspend military exchanges with India, nor did it receive any communication from India about a suspension of exchanges between the two militaries," China's Ministry of National Defense said in a statement faxed to The Associated Press in response to questions.
The Indian army spokesman Virendra Singh declined to comment. Indian officials routinely refuse to speak on the record to the media on what the government defines as sensitive matters, including relations with China.
But China's Defense Ministry hinted at possible friction between the sides, saying both have been working on implementing this year's planned military exchanges, but that it was "very normal to have different points of view" during specific consultations. It did not elaborate.
"We believe both sides can focus on the overall situation of bilateral relations, based on the principle of consultation and consensus, to promote the healthy and stable development of the two militaries' relations," it said.
 Indian media reports said the suspension was New Delhi's response to Beijing denying a visa for Indian army Lt. Gen. B.S. Jaswal, who was scheduled to join a military delegation to China.
 Jaswal was denied a visa because he is responsible for army operations in the Indian-controlled portion of Kashmir, a disputed territory, the reports said. All of the Himalayan region of Kashmir is claimed by India and Pakistan, an ally of China. China also claims part of northeastern Kashmir that it says is part of Tibet.
 New Delhi also refused to allow two Chinese army officers to attend a defense course in India and denied permission to a senior Chinese army colonel to visit India's National Defense College, the reports said.
Ties between India and China have improved vastly since a brief border war in 1962, but the two sides remain divided over the territorial claims dating back to the conflict.
In recent years, India and China have held more than a dozen rounds of talks on settling the border dispute but have made little progress.
Beijing is also highly critical of India's support for the Tibetan spiritual leader, the Dalai Lama, who fled Tibet in 1959 and set up a government-in-exile in the northern Indian hill town of Dharmsala. AP