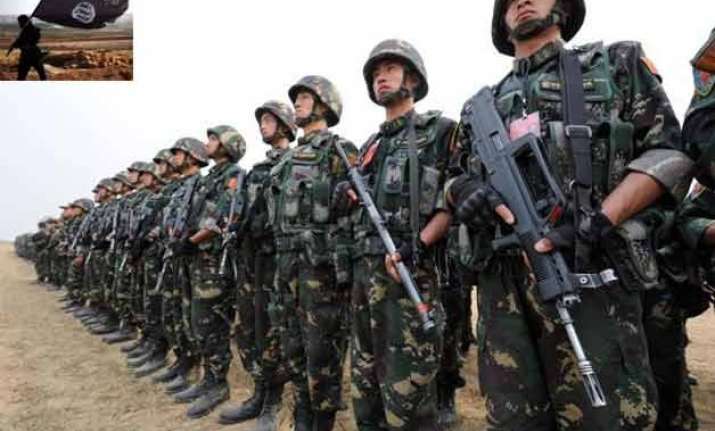 Washington: In what could be a big boost to the anti-terror alliance against Islamic State, China may send troops to join the global conflict against dreaded outfit.
The move could sound a death knell for the terror group that has set a new benchmark in barbarity and perversity, through wrong interpretation of Islam.
China is said to be concerned that the Islamic State is moving into western China, specifically Xinjiang province, where Muslim Uighurs in the past have joined Islamist terrorist groups like Islamic State rival al Qaeda, Washington post reported
Moreover, the growing number of Chinese-origin terrorists joining the dreaded outfit has further added to the woes of the communist establishment in Beijing.
Reports also suggest that China may prefer joining forces with Russian Military over  US led coalition alliance now operating against the Islamic State in Syria, Iraq and other locations.
Russian airstrikes not only target Islamic Stae but they also target rebels opposing Syrian regime of President Bashar Assad.
It began last year when ISIS leader Abu Bakr al-Baghdadi sent out a chilling threat to China over the perceived oppression of the Muslim Uighur minority in the state of Xinjiang.
Beijing claims members of the Uighur militant group, the East Turkestan Islamic Movement, have been training with extremists in Syria and Iraq.
 Islamic State militants issued a video from Syria in July calling on China's Uighurs to take up arms and join the Islamic State in territory the group controls in Syria and Iraq. It was the first time the Islamic State publicly appealed to Uighurs.
China has used its counterterrorism rules to crush not only Islamist terrorists but also dissident Uighurs and others who are seeking independence from Beijing.
China's foreign minister Wang Yi has earlier stated at the UN Security Council session in New York: "The world cannot afford to stand by and look on with folded arms, but must also not arbitrarily interfere."
He added that nations should stand united against "violent extremist ideology".
The jihadist group Islamic State (IS) burst on to the international scene in 2014 when it seized large swathes of territory in Syria and Iraq. It has become notorious for its brutality, including mass killings, abductions and beheadings. The group though has attracted support elsewhere in the Muslim world - and a US-led coalition has vowed to destroy it.