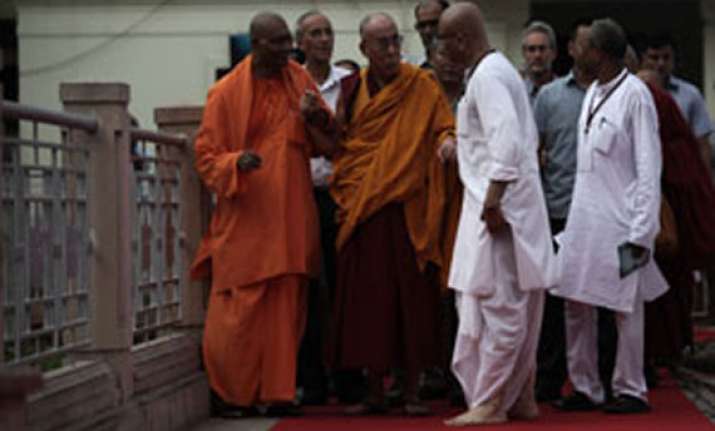 Beijing, Nov 12 :  China on Monday accused the Dalai Lama of allying with Japanese right wingers in an island dispute as a way of attacking China and blamed him for glorifying a wave of self-immolations among Tibetans.
The exiled Tibetan spiritual leader's use of the Japanese name for an island chain claimed by both Beijing and Tokyo showed his "reactionary nature" and determination to split China apart under the guise of religion, Chinese Foreign Ministry spokesman Hong Lei said.
"To achieve his separatist goal, he associated with the Japanese right-wing forces. Chinese people despise him for what he did. We are firmly opposed to any country's providing a stage for him," Hong said.
Tensions have run high over the islands, known as Senkaku in Japanese and Diaoyu in Chinese, ever since the Japanese government nationalized some of them in September in a bid to prevent Tokyo's right-wing mayor from buying them.
Violent anti-Japanese protests broke out in a number of Chinese cities, and Beijing has sent ships to conduct near-constant patrols near the uninhabited rocks.
Hong also attacked the Dalai Lama for comments Monday that reportedly accused the Chinese government of failing to investigate the root cause of despair and hopelessness among Tibetans that many say is prompting them to take their lives as a form of protest.
China has long accused the Dalai Lama and his supporters of inspiring such acts, despite his condemnation of all forms of violence.
"Not only did the Dalai not condemn them, but he actually glorified these acts, which are against the national law and religious principles," Hong said.
The Dalai Lama fled to India following an abortive 1959 uprising against Chinese rule over Tibet.
He denies seeking the region's independence, saying that he wishes Tibetans to enjoy real autonomy and protection for their traditional Buddhist culture.