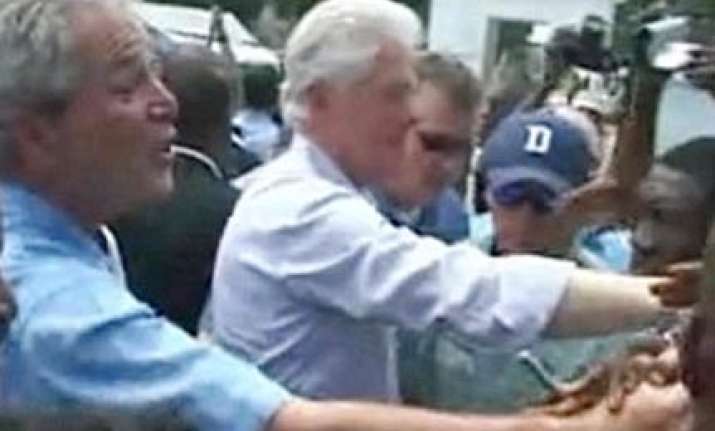 Former U.S. president Geroge W. Bush  was caught on video footage shaking hands with Haitians at a refugee camp - then apparently wiping his hand clean on his predecessor Bill Clinton's shirt, reports The Daily Mail, London.
The incident took place earlier this week as Mr Bush and Mr Clinton visited earthquake victims at the camp in Port-au-Prince after being asked by President Barack Obama to spearhead U.S. fundraising efforts to help ease the crisis in Haiti.  
Bush is seen clasping hands with a Haitian man, then hanging his hand limply in the air as if unsure what to do with it - before spotting Mr Clinton's crisp, clean white shirt just to his left.
The video footage shows Bush placing his hand gently on Clinton's shoulder before drawing it down the length of his arm.
The sequence has been posted on YouTube and gone around the world.
Bush is known for his fastidiousness as well as his gaffes. In Obama's memoirs, he claims that Bush told him he uses hand sanitisers to prevent colds.
Bush, who was on his first visit to Haiti, had been clearly taken aback at the extent of the devastation.
'It's one thing to see it on TV, it's another to see it firsthand,' he said. 'Hopefully our visit will remind people that Haiti needs help.
The pair - tapped by President Barack Obama to spearhead U.S. fundraising for the crisis - clasped hands with residents as they toured one of the new massive tent cities that have sprung up around the capital since the January 12 quake.
They gave a news conference in the grounds of the collapsed presidential palace, and later spoke to survivors who are still camping on Port-au-Prince's national mall, the Champ de Mars.
More than 60,000 people are living there, made homeless when their houses crashed down around them in the quake.
Secret Service agents and Haitian police surrounded the men as they waded into a fenced-in section of the mall where dozens of families have pitched blue, orange and silver tarps.
While many of the homeless welcomed the visit as a sign that the U.S. would continue to supply aid, some said they were disappointed the presidents did not bring anything more tangible.
'The visit is like no visit at all. They walked inside, it's to show off,' said Rene Pierre, a 35-year-old homeless man.
About 100 supporters of ousted President Jean-Bertrand Aristide staged a protest outside the national palace, burning tires and demanding the return of their exiled leader. 
Clinton and Bush visit as the country struggles to feed and shelter victims of the magnitude-7 quake, which killed an estimated 230,000 people.
Another 1.3 million quake survivors are homeless, with many living in camps prone to dangerous flooding in the April rainy season.
The Inter-American Development Bank announced it had agreed to forgive its $479 million share of Haiti's $1.2 billion in foreign debt while offering $2 billion in new financing over the next 10 years. And the European Union said it will donate Euro1 billion ($1.36 billion) in development aid to Haiti in the years ahead.
Venezuelan President Hugo Chavez has also announced he would cancel Haiti's debt to his country, which the IMF had listed at more than $200 million.
The non-profit Clinton Bush Haiti Fund has raised $37 million from 220,000 individuals including Hollywood actor Leonardo DiCaprio, who gave $1 million, and Mr Obama, who among other donations gave $200,000 of his Nobel Peace Prize.
About $4 million has gone to such organizations as Habitat for Humanity, the University of Miami/Project Medishare mobile hospital in Port-au-Prince and the U.S. branch of the Irish charity Concern Worldwide. The rest has yet to be allocated.