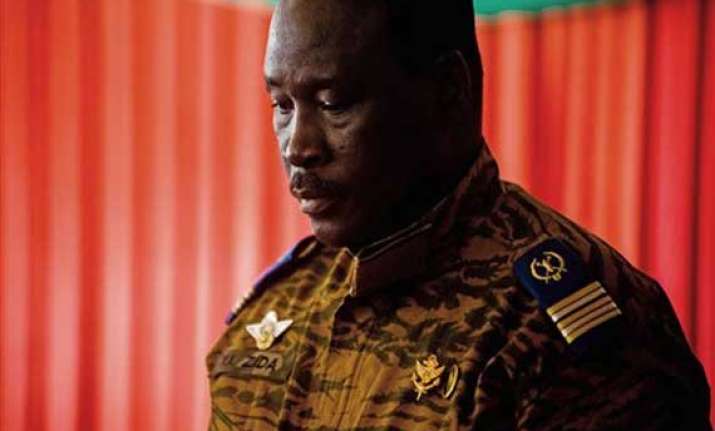 Ouagadougou, Burkina Faso: Burkina Faso's military leader lashed out at regional mediators on Thursday, saying he wasn't concerned about a two-week deadline imposed by the African Union for him to hand over power to a civilian transitional government or face crippling sanctions.
The comments from Lt. Col. Isaac Yacouba Zida come as the international community pressures him to step aside as quickly as possible nearly a week after he declared himself in charge. Zida's ascension came after Burkina Faso's president of 27 years fled the country amid mounting opposition to his bid for a fifth term.
In Washington, U.S. State Department spokeswoman Jen Psaki said: "We continue to call for a civilian-led transition as quickly as possible."
However, Zida said the deadline imposed by the AU "is not a concern for us in Burkina Faso."
"We want to have consensus that will allow us to move toward elections where the results will be accepted by everyone," he said.
"We have waited on the African Union in moments when it should have shown its fraternity and its friendship but instead was not there," he continued. "It's unfortunate but it's not too late."
Talks on Wednesday failed to designate a transitional leader, but diplomats said some progress had been made: All sides have agreed that the transition should last one year and elections should be held in November 2015.
"I believe that in days, rather than in weeks, we will be able to reach an agreement and install a transitional government," Ghana's president, John Dramani Mahama, said late Wednesday after meetings ended. "I am certain that we will not reach the stage where the international community will have to impose sanctions."
Mahama, who currently chairs the regional bloc of West African states, known as ECOWAS, was mediating talks along with the presidents of Senegal and Nigeria.
On Thursday, the opposition and other prominent leaders met to determine their criteria for a transitional leader and to describe how they would like the transitional period to proceed.
ECOWAS is holding an emergency meeting on Thursday to discuss the crisis in Burkina Faso as well as the Ebola outbreak.