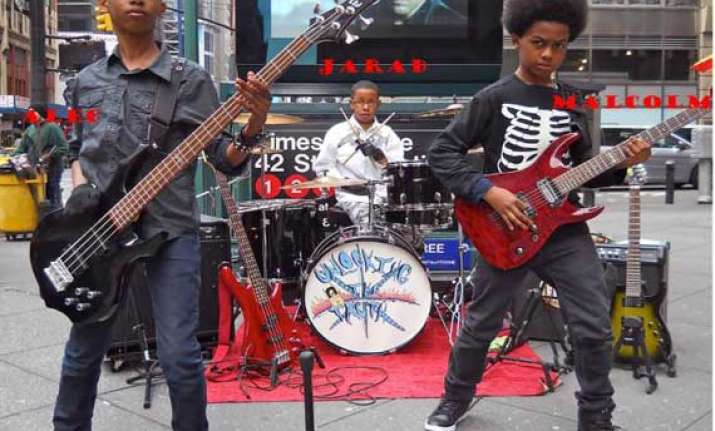 Brooklyn: A heavy metal band named "Unlocking the Truth" which comprises three 8th-graders from Brooklyn, landed into a to a two-album recording contract with Sony.
 The deal comes with a $60,000 up-front advance and an option for four additional LPs.
Founded in 2007, the band, made up of guitarist Malcolm Brickhouse, 13, bassist Alec Atkins, 13, and drummer Jarad Dawkins, 12, has been riding the lightning to metal fame. All thanks to a steady run of heavy-beyond-their-years basking in Times Square and Washington Square Park .
According to reports of the "Daily News", the boys have finalized a deal with Sony that could net them as much as $1.7 million over a possible 6 albums.
"What started out as play dates went to Times Square and now this. It's been one great thing after another," Dawkins's mother, Tabatha, told the News.
The boys competed in the Apollo Theater's amateur night (under the name Tears of Blood, no less) and have unleashed their middle-school riffage at venues like Webster Hall and the Coachella music festival.
As part of the Vans Warped Tour, the band "Unlocking the Truth" is currently touring the country. They recently took time off from pre-algebra class to open for Gun N Roses in Las Vegas.
the 8th graders' Sony contract had to be approved and filed in Manhattan Supreme Court.
Speaking on the development, band's manager Alan Sacks says "The deal is remarkable on account of more than just the band's age".
"The boys have a chance of becoming the new face of rock because they are unique — black artists excelling in heavy metal, a genre typically dominated by white musicians," added Sacks.
However, any further detail about launching of thier debut album is still under the covers. But whenever it does drop folksy-bearded Brooklyn should buy it because metal is awesome.