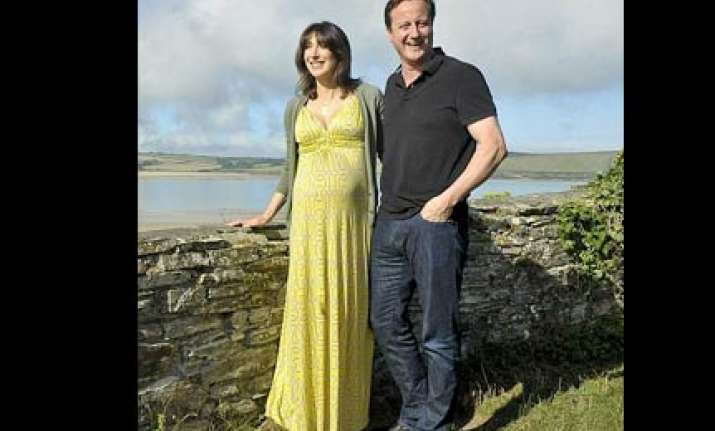 British Prime Minister David Cameron became the proud father of a baby girl on Tuesday, when wife Samantha gave birth to a 6 pounds 1 ounce  'unbelievably beautiful' girl by caesarean section, reports The Daily Mail.
In the middle of their Cornish family holiday, Cameron drove with his wife Samantha to hospital for what they believed would be a routine check-up. But four hours later he was by her side when she gave birth to the baby. 
The Mail reported that Cameron scrubbed up - wearing a gown and cap to reduce the chances of infection - for the delivery, which was three weeks early.
David and Samantha Cameron have named their new daughter Florence Rose Endellion Cameron. fourth child born at the Royal Cornwall Hospital in Truro at midday yesterday takes her middle name from the town on the north Cornwall coast, near where her parents were holidaying.
The place itself was named after St Endelienta who is said to have converted the locals to Christianity in the fifth century.
Later a delighted  Prime Minister said: 'We woke up this morning and thought she was having contractions and it was all beginning to get going, so we thought we would come to the hospital just to get everything checked out, and then things sort of sped up and it all happened very, very quickly and the baby popped out at about 12 o'clock.'
The mother and daughter were doing well and expected to spend until at least Thursday at the Royal Cornwall Hospital in Truro.
The birth comes a year after the death of the Camerons' six-year-old son Ivan, who suffered from cerebral palsy and severe epilepsy.
Their two other children, six-year-old Nancy and four-year-old Arthur Elwen, were 'thrilled, bouncing up and down, and dying to say hello to the new baby', Mr Cameron said. 'It was very exciting, we thought we were going to get through the holiday and then have a baby, and then it just seemed to kick off a bit quickly.'
Beaming, he continued: 'She had been having contractions for the last couple of days on and off and just sort of thought this was time to come to the hospital and check out, see if everything was fine, and the next thing we knew we were all getting into the gear and baby was coming out.
'They seemed to be doing fine and my job was to make the toast and the tea, things like that, but it's absolutely thrilling, really exciting and it's just lovely they are both doing so well.
'It was a bit of a shock - I always thought it was possible because Samantha's have tended to come a bit early.'
Despite his suspicions, an early birth seemed unlikely on Sunday as the Camerons posed for photographs overlooking the beautiful Daymer Bay, between the towns of Rock and Polzeath.
Samantha Cameron, 39, seemed relaxed as she and her husband smiled for photographers.
The following day the family, who have been staying in a rented house with friends, were seen walking on a beach, Cameron plunging into the sea and later playing with the children near rock pools.
The baby was due next month and 43-year-old Cameron was expected to return to work next week after the family's holiday.
 Downing Street said  he would now be taking two weeks paternity leave meaning that Deputy Prime Minister Nick Clegg, who has been holding the fort during the Prime Minister's holiday, will remain in charge.
Asked whether he and his wife had decided on a name, the Prime Minister replied: 'No, not yet - not that I'll have any say in it of course anyway - but I think we will have to have something Cornish in the middle.'
Dressed casually in a blue open neck shirt and dark jeans, speaking outside the hospital, he said the couple were 'in for suggestions' for names with a Cornish link.
'It was very exciting having a baby in Cornwall, we'll have to have something Cornish in there somewhere.'
Last night bookmakers William Hill had Marnie as favourite at 2/1 followed by Enid and Agnes at 3/1, Annabel 4/1, Charlotte 9/2 and Elizabeth 6/1.
Cameron was full of praise for the Royal Cornwall Hospital, saying it had been 'fantastic'. 'It's a wonderful hospital,' he said. 'They were all so friendly, everyone put us completely at our ease because it's quite nerve-racking when things happen quickly and they were all absolutely wonderful.'