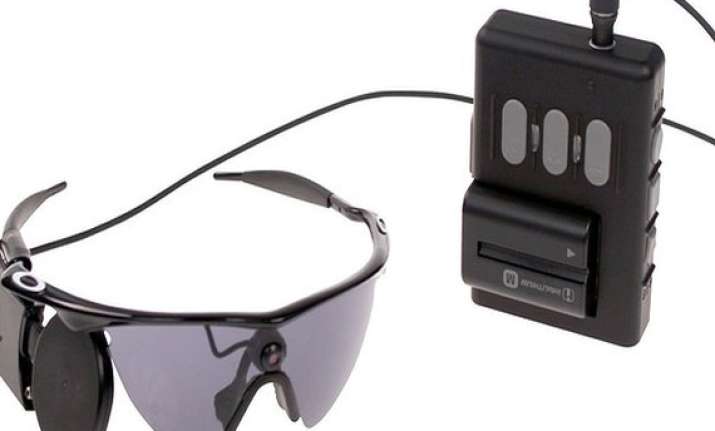 New York, Feb 16: The US  Food and Drug Administration  has  approved an invention to give limited vision to blind persons involving a technology called the "artificial retina", The New York Times reported.
The artificial retina is a sheet of electrodes surgically implanted in the eye.
The patient is outfitted with a pair of glasses with an attached camera and a portable viceo processor.
These elements together allow visual signals to bypass the damaged portion of the retina and be transmitted to the brain.
The manufacturer Second Sights Medical Products has named this integrated system as Argus II. With the help of this technology, people with certain types of  blindness can detect crosswalks on the street, burners on a stove, the presence of people or cars, and sometimes even oversized numbers or letters.
The approval marks the first milestone in a new frontier in vision research, a field in which scientists are making strides with gene therapy, optogenetics, stem cells and other strategies.
"This is just the beginning," said Grace Shen, director of the retinal diseases program at the National Eye Institute.
"We have a lot of exciting things sitting in the wings, multiple approaches being developed now to address this."
With the artificial retina or retinal prosthesis, a blind person cannot see in the conventional sense but can identify outlines and boundaries of objects, especially when there is contrast between light and dark — fireworks against a night sky or black socks mixed with white ones in the laundry.
"Without the system, I wouldn't be able to see anything at all, and if you were in front of me and you moved left and right, I'm not going to realise any of this," said Elias Konstantopolous, 74, a retired electrician in Baltimore, one of about 50 Americans and Europeans who have been using the device in clinical trials for several years.
He said it helps him differentiate curbs from asphalt roads and detect contours, but not details, of cars, trees and people.
"When you don't have nothing, this is something," Mr Konstantopolous said. "It's a lot."
This is used to treat people with severe retinitis pigmentosa, a group of inherited diseases in which photoreceptor cells, which take in light, deteriorate.
The first version of the implant had a sheet of 16 electrodes, but the current version has 60.
A tiny camera mounted on eyeglasses captures images, and the video processor, worn on a belt, translates those images into pixelised patterns of light and dark.
The processor transmits those signals to the electrodes, which send them along the optic nerve to the brain.