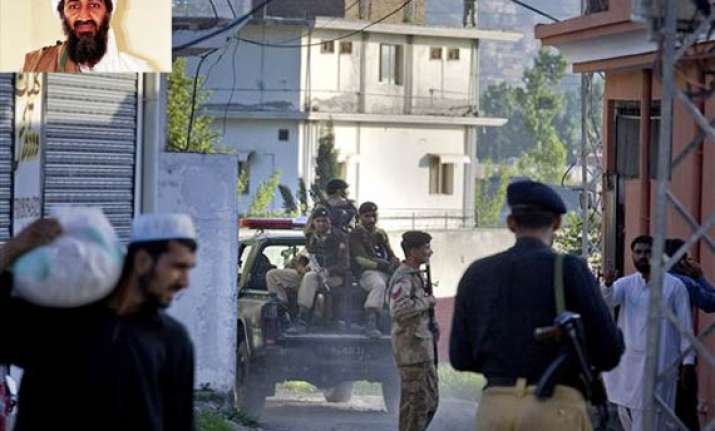 London May 3 : The  body of Osama Bin Laden was fed to the fishes - tipped into the sea at 7am  on Monday from the deck of a US carrier.

In the final dramatic phase of the operation, American Special Forces airlifted his corpse by helicopter from their base at Bagram, Afghanistan, to the USS Carl Vinson in the north Arabian Sea.

Some reports said Saudi Arabia, where Bin Laden was born, had been asked to take the body for burial - but that the request was refused.

However US officials are believed to have been anxious his final resting place did not become a shrine for Muslim fanatics.

So a grave in the depths was chosen instead. Despite Bin Laden's heinous crimes, and the merciless slaughter of thousands, he was still given a religious funeral.

In line with Islamic tradition it took place within 24 hours of his death. Bin Laden's body was first washed and shrouded according to custom, then wrapped in a white sheet.

A Muslim seaman aboard the Carl Vinson helped and made sure the body was wrapped properly. An officer then read religious remarks which were translated into Arabic by the Muslim sailor.

The body was put in a weighted bag and placed on a flat board. It was then tipped up - and the monster who had brought death and misery to the world slid into the sea and disappeared beneath the waves forever.

Officials said the funeral process took 50 minutes. A US defence spokesman said: "Preparations for an at-sea burial began at 1.10am EST (6.10am) and were completed at 2am. Traditional procedures for Islamic burial were followed."

A White House official confirmed the body was handled "in accordance with Islamic practice". He added: "This is something that we take very seriously." But some Muslim clerics argued Bin Laden's sea burial violated Islamic tradition and will cause anger.

They said one vital aspect could not be carried out. Bin Laden's face was not turned towards the Holy city Mecca.

Omar Bakri, the 53-year-old hate-preacher who now lives in Lebanon, said: "The Americans want to humiliate Muslims through this burial."

And Iraqi-based Abdul-Sattar al-Janabi, from Baghdad's Abu Hanifa mosque, said: "It is almost a crime to throw the body of a Muslim man into the sea. The body of Bin Laden should have been handed to his family."

Bin Laden's sister-in-law Carmen Binladin, 57, who was married to his older brother Yeslam, 60, said his Saudi family will have received news of his death with "great sadness".

But she said Bin Laden - seen by the world for the last time in an al-Qaeda video in 2007 - would have wanted to die "rather than face a US court".